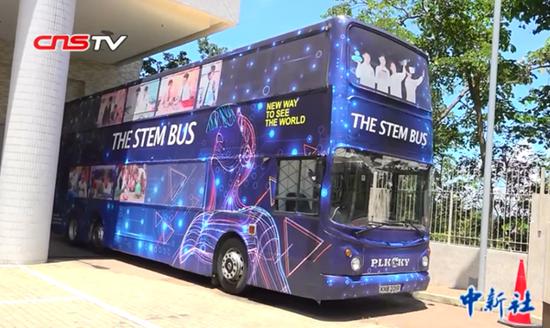 A double-deck bus has been used for STEAM education at Po Leung Kuk Choi Kai Yau school in Hong Kong. (Photo/Video screenshot from CNSTV)
(ECNS) -- A school in Hong Kong has converted a bus into a sustainable development research and exhibition center, called The STEAM Bus.
Equipped with solar-powered lighting and air conditioning, the double-deck bus has a collection of learning resources for Science, Technology, Engineering, Arts and Mathematics (STEAM) education on the first deck and displays student creations on the second deck.
Among the displays is the "Bus Vacant Seat Detecting System," which was launched by students and awarded first runner-up in the Junior Invention session of the Hong Kong Secondary Science Project Competition 2015.
Zhang Lingsheng, one of the five student inventors, said their design was inspired by news reports of elderly people experiencing falls while searching for vacant seats on public transport.
KMB, one of the biggest public transport companies in Hong Kong, donated the bus to the school in October.
Lau Siu Ling, the principle of Po Leung Kuk Choi Kai Yau school, said the bus will encourage students to think about the relationship between technology and society and motivate them to help improve their communities.
In recent years, the Hong Kong SAR Government has promoted STEAM education, a shift from the excessive emphasis on business and medical science in the past.