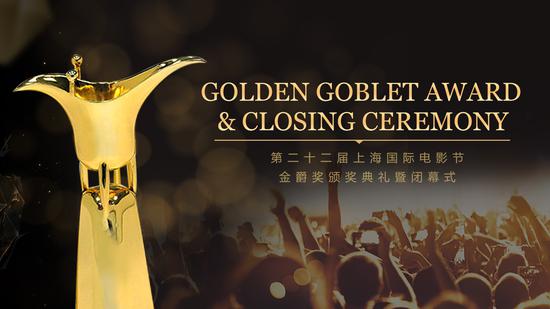 (Photo/CGTN)
Iranian film "Castle of Dreams" was the biggest winner at the Golden Goblet Award ceremony of the 22nd Shanghai International Film Festival (SIFF), which drew its curtain at Shanghai Grand Theater Sunday night.
The Best Film winner also grabbed the Best Director award which went to Iranian director and film-writer Reza Mirkarimi and Best Actor won by Hamed Saberi Behdad. The story depicts how a father helps his son and daughter to realize their dream of what a castle should look like after their mom became critically ill.
The judging panel commended the film as "taking place in a small space and in a limited time, but revealing the truth of life."
Georgian/Russian film "Inhale-Exhale" took home two prizes – the Best Actress to Salome Demuria and the Jury Grand Prix award. The 92-minute movie details a story of how a female doctor managed to start a new life after serving time in prison.
Chinese actor Chang Feng, 97, was certainly the oldest winner at Sunday's ceremony as he won the Best Actor award for his role in the film "The Return." The jury praised him as perfectly portraying an elderly man who is away from his home and hoping to return.
"I'm looking forward to seeing Chinese films that can answer the questions about us living in present, and respond to something the whole ear needs to respond to," said Zhao Tao, one of the jury members, when presenting the Best Actor award at the ceremony.
The Best Screenplay award went to Russian film "Brotherhood," which is based on a true story during the decade-long war between the Soviet Union and Afghanistan.
Indian film "Trees Under the Sun" took the Outstanding Artistic Achievement award. The film tells the story of how a family makes a living in mountainous areas through hard work. It also touches upon the discrimination among different classes in Indian society.
The Best Animation Film award went to Japanese film "Ride Your Wave" which depicts the romance between a firefighter and a college student.
The Best Documentary Film Award went to "Bridges of Time" while Chinese film "Spring Tide" won the Best Cinematography award.
A total of 3,964 films from 112 countries and regions applied either for competition or for exhibition this year, according to the film festival's organizing committee. A total of 40 films were nominated for the "Golden Goblet Awards."
Turkish director and screenwriter Nuri Bilge Ceylan, Mexican producer Nicolas Celis, Chinese actor Wang Jingchun and Chinese film director Ning Hao were among the jury line-up this year.