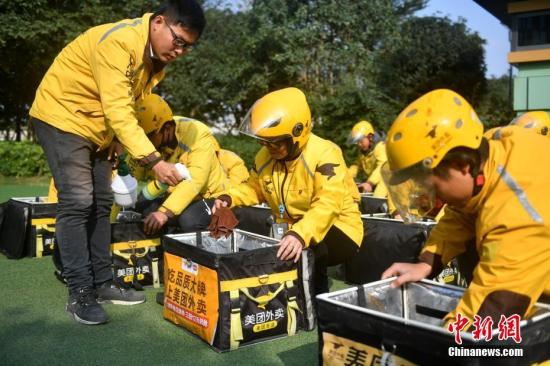 Food delivery men are ready to work. (File photo/China News Service)
(ECNS) -- Eight departments in China have jointly issued an action plan to ensure online food safety, as some Internet platforms have been allowing unlicensed stores to advertise and sell products.
The action plan urges e-commerce operators, especially platform operators, to fulfill their legal responsibilities and obligations and strengthen qualification examination for operators.
It requires online platforms to reinforce management of branches, agencies and partners to ensure safety of online food delivery.
Tianyuan Data, a unit of China's cloud computing and big data service provider Inspur group, said that consumers were worried most about the safety (42.2 percent) and quality (19.7 percent) of online food.
More than 358 million people used online food delivery services in 2018 and the food delivery market exceeded 240 billion yuan ($34.8 billion), according to iiMedia Research.
Joint efforts by the government, enterprises, and society are urged to increase food safety as the Internet reshapes how and what people eat in China.
In May, the State Council identified 21 major tasks to improve food safety this year, including a requirement for local Party chiefs and government leaders to be responsible for food safety.
At the enterprise level, China's e-commerce giant Alibaba has established a real-time tracking system for crayfish, a popular delicacy in China during summer, so that customers can check if the aquatic products they eat are fresh or not.
New rules that took effect in 2016 require China's e-commerce platforms to improve food safety management. Third-party online supermarkets must take responsibility for poor-quality food products sold by stores registered on their platforms.