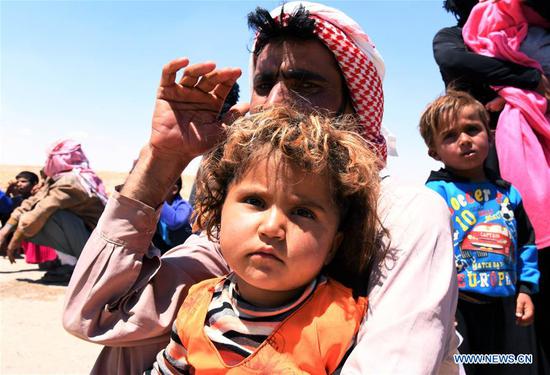 Syrian refugees arrive at the Jlaighem crossing in the eastern countryside of Homs Province, Syria, on June 19, 2019. (Xinhua/Ammar Safarjalani)
Almost 70.8 million people were forcibly displaced in 2018, with a 2.3-million increase compared to the previous year, according to a report released here on Wednesday by the United Nations Refugee Agency (UNHCR).
Ahead of the World Refugee Day -- being celebrated worldwide on June 20 -- the Rome-based UNHCR provided the latest figures on the phenomenon in its annual "Global Trends" report.
The number of people forced to leave their homes, and often their countries, due to war, unrests, or persecution has never been so high in the last seven decades, the report stated.
"This is the largest global displacement situation since the World War II," Roland Schilling, UNHCR regional representative for Southern Europe, told a press conference held at the Foreign Press association.
The 70.8 million comprised 25.9 million refugees, some 41.3 million people forcibly displaced within their own country, and over 3.5 million asylum seekers waiting for a decision on their application, according to the report.
An estimated 13.6 million were newly displaced because of conflicts or persecution last year, including 10.8 million people looking for safety within the borders of their own country.
Such number made an average of 37,000 people being forced to flee for every single day of 2018, officials at the press conference highlighted.
Finally, there were 1.7 million new claims lodged by asylum seekers last year, and especially towards the United States, followed by Peru, Germany, France, and Turkey.
Altogether, more than two thirds (67 percent) of all refugees worldwide in 2018 originated from five countries, including Syria, Afghanistan, South Sudan and Somalia.
Yet, the UN agency warned not all the ongoing crisis around the world allowed a detailed estimate of the number of fleeing people. "The figure of 70.8 million is conservative, in particular as the crisis in Venezuela is still only partly reflected in this number," the report specified.
WORSENING SITUATION
Overall, the number of displaced people spiralled out of control in the last decade, rising from 43.3 million in 2009 to the current 70.8 million, according to the Global Trends report.
The situation worsened especially between 2012 and 2015 mainly due to the war in Syria, which has now entered its eighth year and has so far produced over 5.6 million refugees and 6.6 million internally displaced.
Yet, other hot spots around the planet contributed to the rise as well, including Iraq and Yemen in the Middle East, some areas in the sub-Saharan region, Democratic Republic of Congo, and South Sudan in Africa, and Bangladesh in Asia.
Not only was the situation not improving, the UNHCR warned, but a much-needed trend reversal seemed to be nowhere in sight.
"This proves the current policies implemented not only in Italy or Europe but around the world -- policies mostly built on concepts such as exclusion and fear, and leading to the construction of defensive walls -- are not focusing on a real solution," said Carlotta Sami, UNHCR spokesperson for Southern Europe.
KEY FEATURES
Within such framework, UNHCR officials highlighted with reporters what they considered as some of the key features of the situation.
"Firstly, the majority of this population is made by internally displaced people (41.3 million) forced to flee war, unrests, or persecution within their own country," Schilling said.
A second major trait was that the large majority of global refugees -- up to 80 percent -- was being hosted in neighboring countries.
This was no novelty in the global refugee phenomenon, yet UNHCR officials were used to reasserting it frequently, since public opinions in Europe (Italy included) often perceive the most of the migrant and refugee flows were towards Western countries.
"Thirdly, most of the countries hosting refugees are low and medium-income countries, up to 81 percent in 2018 from about 70 percent some 20 years ago," Schilling added.
"This is also a worrying trend," he stressed.
In fact, data showed that middle and low-income countries on average hosted 5.8 refugees for each 1,000 inhabitants in 2018, while high-income countries 2.7 per 1,000.
More specifically, Turkey hosted the largest number of refugees (3.7 million) at global level in 2018, and for the fifth consecutive year, followed by Pakistan (1.4 million), Uganda (1.2 million), and Sudan (1.1 million), and Germany (1.1 million).
"Developing regions continued to shoulder a disproportionately large responsibility for hosting refugees," the UNHCR report added. Enditem