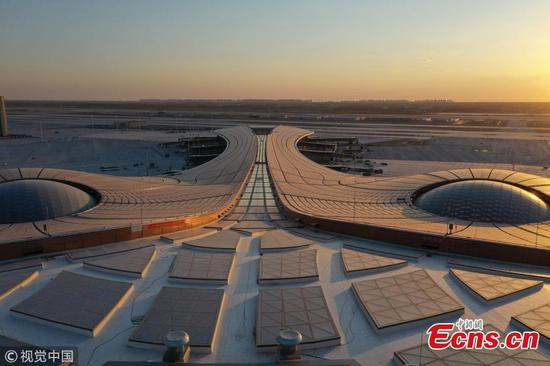 An outside view of the Beijing Daxing International Airport. (Photo/VCG)
(ECNS) -- Three airlines are set to send their flagship aircraft up for test flights at Beijing Daxing International Airport on May 13, Beijing Youth Daily reported on Wednesday.
The Boeing 747-8 of Air China, the Airbus A359 of China Eastern Airlines, and the Airbus A380 of China Southern Airlines will all land at the airport sometime before 10 am, before taking an approximate one-hour test flight, part of necessary procedures before the airport officially opens by the end of September.
Sources say XiamenAir will also include a Boeing 787 in the test.
Preparations for opening the airport have been in full swing. Flight checks were completed at the airport from Jan. 22 to Feb. 24, ending 19 days ahead of schedule. Then from April 28 to 30, the airport's four runways as well as other infrastructure passed required reviews.
The new airport, which will enable seamless connections to subway and high-speed railway lines, sits at the junction of Beijing's southern Daxing District and Langfang, a city in North China's Hebei Province. It is expected to handle 45 million passengers annually by 2021 and 72 million by 2025.