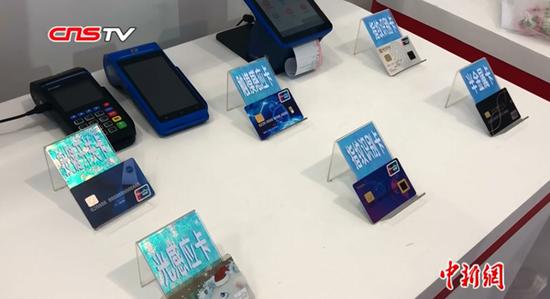 Bank cards with new functions are displayed at the second Digital China Summit in Fuzhou, Fujian Province. (Photo/Screenshot on CNSTV)
Special: The second Digital China Summit
(ECNS) -- Bank cards with new functions such as fingerprint recognition and light sensitivity will be under the spotlight at the upcoming second Digital China Summit, to be held from May 6 to 8 in Fuzhou, Fujian Province.
The fingerprint-recognition bank card, developed by card-payment giant China UnionPay, is a dual-interface IC card with a fingerprint identification function that uses biometric technology to improve transaction security.
Cao Yu, head of the technology department at China UnionPay, said the card will ensure a high level of safety and be used for real-name identity authentication. The card's sensor can initially record the fingerprint information of the cardholder, then store the information with encryption.
The light-sensitivity card can automatically shut down payment functions when put at a place where there is no light.
The built-in light sensor can detect the environment in which the card is placed and disable its contactless payment feature as a way to improve safety, as when the card is placed in a pocket or wallet, Cao said.
Bank cards with other breakthrough technologies will also be presented at the summit.
The theme of the second Digital China Summit is "fully implementing a new development philosophy, using IT applications to foster new growth drivers, making further progress and achieving greater success."
The focus of the 56,000-square-meter exhibition is to highlight the progress that has been made in digital governance and the digital economy.
There are also sub-forums planned for the summit focusing on 12 themes, including intelligent society, Big Data, the industrial Internet, digital health and the Internet of Things.