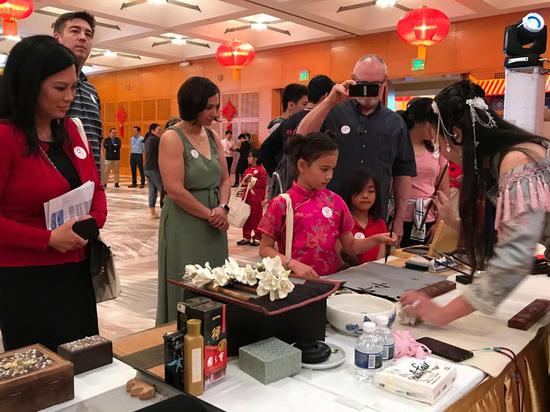 People attends a promotion of the China Tourism and Culture Week in New York, the U.S. , May 4, 2019. (Photo provided to China Daily)
(ECNS) - Thirty-four overseas Chinese culture centers and 19 overseas tourist offices will work together to launch the China Tourism and Culture Week, scheduled to last from May 15 to June 30.
More than 200 events, including a photo exhibition of China's natural scenery, tourism expos, lectures, forums and interactive programs, will be held across the world.
Centered on the integrated growth of culture and tourism, and with the slogan "China beyond imagination," these events aim to show the progress and achievement in China's tourism and cultural sectors, its rich tourism products and services, and its initiatives to promote international exchange and cooperation.
Cultural and tourism authorities in Suzhou, Shanghai, Chongqing, Sichuan, Qinghai, and Hainan as well as tourism companies will all participate in the event to attract more international tourists.
Among the events, China culture centers in Madrid and Seoul will promote a tour oriented on Longquan celadon, a type of green-glazed Chinese ceramic, while cultural centers in Denmark and New Zealand will introduce traditional Chinese medicine-centered travel routes in China.