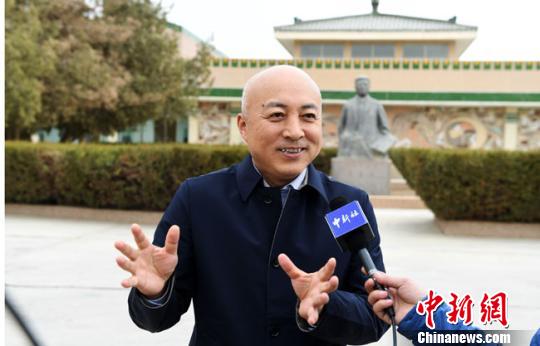 Wang Xudong, new curator of the Palace Museum. (File photo/China News Service)
(ECNS) -- Wang Xudong, director of Dunhuang Academy in Gansu Province, has become the new curator of the Palace Museum following the retirement of Shan Jixiang, who is known for helping the public see more of the museum and its treasures.
Wang began working at the academy on the preservation of Mogao Grottoes since 1991. He became its director in December 2014, the fourth director of the academy that manages and studies Mogao Caves in Dunhuang, also known as the Caves of the Thousand Buddhas, and its hundreds of temples at a Silk Road crossroads.
He said he had to sweep the sand every day in the caves back in 1991, a labor rarely needed today thanks to sand control projects.
Wang has witnessed a shift in conservation at the UNESCO World Heritage site in the past two decades, changing from a focus on rescue to preventative protection. Other progresses included the rapid development of digitizing relics and the academy's more important roles in international exchanges on Dunhuang legacies.
Wang said he emphasized international cooperation in promoting Dunhuang studies, so the academy benefited from advanced ideas and techniques from other countries as it formed its own procedures and methods of conservation.
In recent years, the academy has developed close exchanges with research institutes in the United Kingdom, France, Italy, the United States, Japan, India and other countries, and also signed a series of cooperation agreements.
The academy will share its expertise in cultural relics protection with countries and regions along the Silk Road and has also invited overseas scholars to stay at the academy amid wishes they will help the global community better understand Dunhuang.
Cultural creations should start with a respect for culture and not just follow mass market requirements, the new curator explained.
"We must resist vulgar, cheap and kitsch forms of culture and provide cultural products that promote a good life and subtly influence the public," he said.
The academy has diversified its services to the public, including offering customized classes for children and adults, so more people can understand profound cultural traditions, said Wang.
Born in February 1967 in Shandan County of Gansu Province, Wang graduated from Lanzhou University with a major in hydrogeology and engineering geology.
He plans to promote and apply the mature technologies of cultural relic protection in mural paintings, earth sites and digitization to countries and regions along the silk road.
"Only when people know about a culture relic will they come to protect it," he said.
Related story: Palace Museum director retires with grand legacy