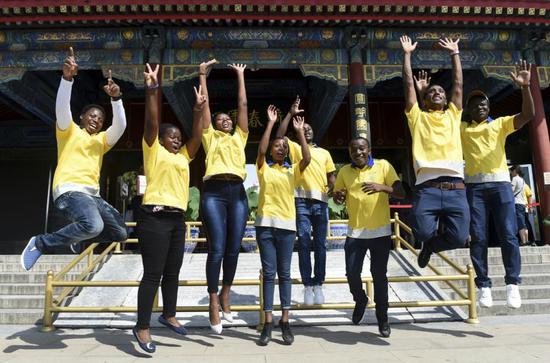 File photo: African students, who work as volunteers at Yuanmingyuan, or the Old Summer Palace, jump in unison for a group photo in Beijing. (Photo/Xinhua)
Chinese President Xi Jinping on Tuesday sent a congratulation letter to the China-Africa Institute, which inaugurated in Beijing the same day.
The current world is undergoing dramatic changes, Xi said in the letter.
Under the new circumstances, China and Africa, as the biggest developing country and a continent with most of the developing countries located, need to strengthen inter-civilization mutual learning, which will not only benefit the peoples in China and Africa, but also contribute to world peace and development, he added.
Xi stressed that China and African countries decided to implement eight major initiatives and agreed to build an even stronger China-Africa community with a shared future at the 2018 Beijing Summit of the Forum on China-Africa Cooperation.
He expressed his hope that the institute will make great contributions to China-Africa relations.