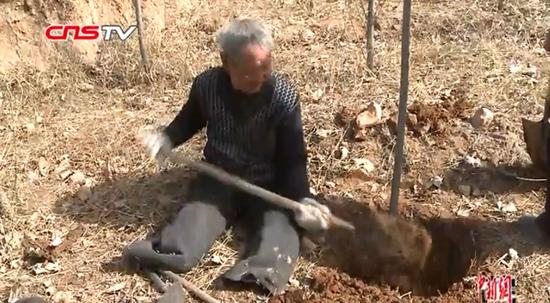 Double amputee veteran Ma Sanxiao plants a tree on a barren hill. (Photo/Video screenshot on CNSTV)
(ECNS) -- Double amputee veteran Ma Sanxiao has planted more than 17,000 trees on hills near his village in Hebei Province since 2000, turning a former wasteland into a green, lush landscape that he now wants to leave to future generations.
On a hill west of Mayu Village in Jingxing County, the grey-haired man first applies extra protection to the remains of his legs after amputation and puts on thick gloves before carrying his tools – a shovel and pickaxe – to plant trees.
Sometimes, he has to crawl to cross a ditch and climb slopes covered with thorns.
Ma said originally in 2000 he wanted to grow trees and then sell them to make a living. At that time, his family had broken up due to his illness and disability.
Planting trees on barren hills is not easy for healthy people. For Ma, it's more difficult. He often carried food with him, arrived at the hill at 5 a.m. in the morning, and stayed the whole day.
Several times, he fell into a deep ditch when planting trees, causing his thigh bone to fracture.
Ma said he suffered other injuries too, ranging from a broken wrist to the loss of a little finger.
His life changed forever in 2008 when his deeds received media coverage and assistance became available, according to Ma. He has no worries about living now, and also changed his motivation for planting trees, deciding that he will not sell them anymore.
Ma said he wants to serve society to express his gratitude for the help from the Party and government.
As Ma gets older, others often urge him to not work so hard and enjoy his time at home. But he said he still likes to work in the forest and feels great only when he's with the trees he planted.
Ma said he doesn't think of a tree as just a tree now, and instead regards it as a soldier he has trained.
"It's a great sense of fulfillment. I will continue planting trees until my last breadth and leave this green wealth to the country and future generations," said Ma.