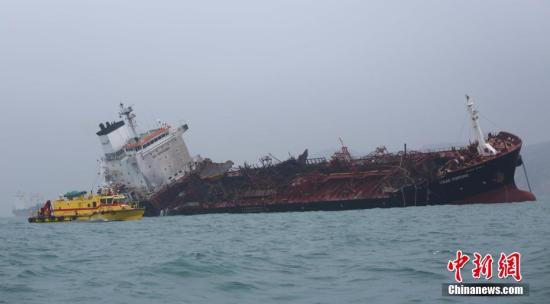 An oil tanker catches fire near Hong Kong's Lamma Island on Jan. 8, 2019. (Photo/China News Service)
(ECNS) -- There have been no reports of oil spillage in Guangdong waters after an oil tanker caught fire near Hong Kong's Lamma Island, according to Guangdong Maritime Search and Rescue Center.
The fire broke out after an explosion aboard the Vietnamese-flagged Aulac Fortune near the island at 11:30 a.m. on Tuesday.
The center is helping local authorities search for missing people and coordinating with nearby ships to monitor waters for oil pollution.
Some 23 crew members have been rescued, while three remain missing.
The center said it dispatched ships and a helicopter to assist rescue efforts.
Guangzhou Maritime Bureau also issued alerts and requested nearby ships to help search for the missing.