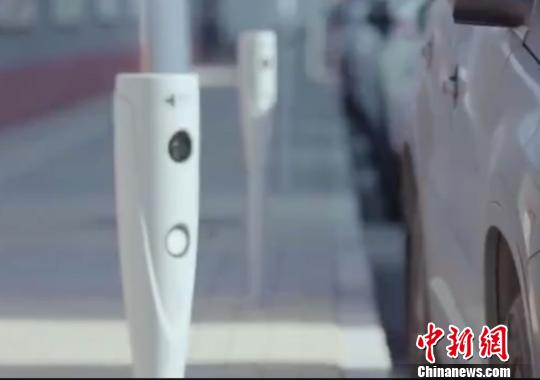 An electronic toll collection pole for roadside parking. (Photo provided to China News Service)
(ECNS) — Three Beijing districts will be the first to implement an electronic toll collection system for roadside parking from Jan. 1, said Beijing Municipal Commission of Transport on Wednesday.
Dongcheng, Xicheng and Tongzhou districts have installed electronic parking meters at more than 12,000 parking spots marked in a solid white line, while other districts in Beijing are also making progress in parking management reform.
A driver can choose to pay the specified parking fee via Tencent's social networking app WeChat or Alibaba's mobile payment system Alipay.
Other parking spots marked with a dotted white line will fall under the administration of communities and adopt a lump-sum fee.
According to the plan, Chaoyang, Haidian, Fengtai and Shijingshan districts will also apply the electronic parking toll system from July 1, followed by the rest of the city's districts from Dec. 1.
A commission official previously said the system is able to not only collect parking fees, but also monitor parking conditions and analyze data for better service.