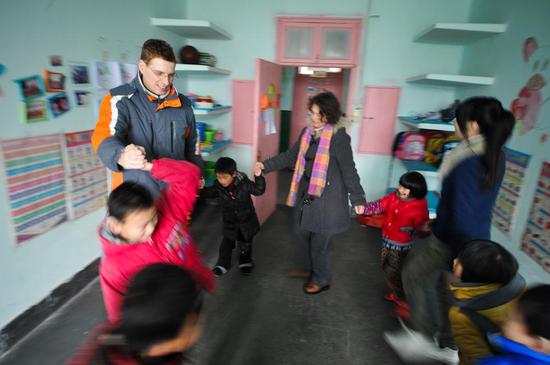 Uwe Brutzer and his wife Dorothee Brutzer attend the class for hearing-impaired children at a rehabilitation training center in Changsha, capital of central China's Hunan Province, Feb. 21, 2012.(Xinhua/Bai Yu)
(ECNS) - A couple from Germany has supported dozens of hearing-impaired people by employing them at a Western snack shop in Changsha City, capital of Central China's Hunan Province.
Uwe and Dorothee Brutzer, who have been in Changsha for 16 years, are known locally as Wu Zhengrong and Du Xuehui.
The 48-year-old Uwe Brutzer from Stuttgart specialized in chemistry and once worked for a pharmaceutical company. After volunteering for a charity organization, the couple arrived in Changsha during 2002.
They started by sponsoring hearing-impaired children, offered them rehabilitative training and tutoring in their studies before opening their bakery, where they also teach hearing-impaired people to make bread and cakes.
Uwe said he started the store in 2011 in downtown Changsha but suffered losses six months later due to high rent as well as salaries for more than 10 employees. With the help of a social welfare center, he reopened the store in another location and invited a baker from Germany to teach handicapped people there.
The baker stayed in Changsha for four years, training Uwe and other apprentices before returning to Germany.
At the beginning his parents didn't understand why he gave up everything, including a stable job, to help disadvantaged children in Changsha, but they now feel it is worthwhile after seeing photos of his efforts.
Uwe said he never planned to stay in Changsha for so long or become a baker, but when he realized he could help hearing-impaired children to master a skill and gain confidence in life, it felt right.
The shop is named after J.S. Bach's Chinese name Ba He and aims provide the best snacks, just as Bach did in music, Uwe explained.
The couple has now sponsored 54 hearing-impaired children and say they "will try our best to do good things, big or small."