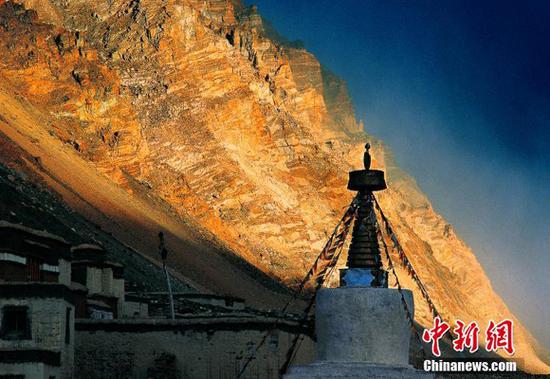 File photo of Rongbuk Monastery in Tibet. (China News Service)
(ECNS) — Mount Qomolangma National Nature Reserve in Southwest China's Tibet Autonomous Region has banned travel to areas above Rongbuk Monastery amid new ecological protection efforts.
The nature reserve in Dingri County, Xigaze City, has been divided into three parts: the core zone, a buffer zone and an experimental zone, where different conservation measures are implemented, said a local staff member of the administration.
The new measure is part of a national campaign called Green Shield 2018 that aims to crack down on all kinds of illegal activities in nature reserves and safeguard national ecology.
The base camp for Mount Qomolangma sits at an altitude of 5,200 meters, two kilometers from Rongbuk Monastery. Tourists will not be allowed to visit the monastery, a new regulation that will not affect their enjoyment of the world's highest peak.
In recent years, environmental protection at the Mount Qomolangma area has been increased, with a fund established in April to make the effort more professional and routine.
Purog Kangri Glacier in Shuanghu County, Tibet Autonomous Region, was closed to tourists for a year from June 1. The county's publicity official Cheng Enwei said the ban was due to the amount of waste left behind by tourists.