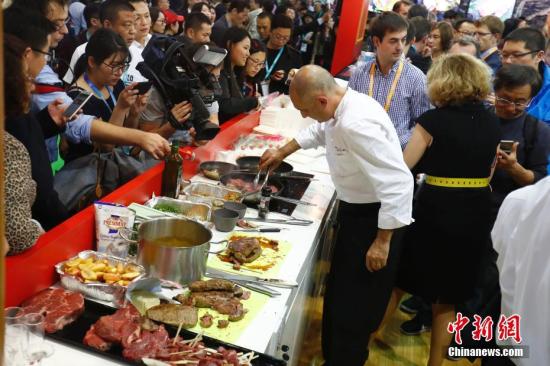 A chef cooks food for the audience at the first China International Import Expo in Shanghai, Nov. 6, 2018. (Photo/China News Service)
Special: China's First Import Expo
(ECNS) - The first China International Import Expo (CIIE) has sent a clear signal that the Chinese market is open to high-quality milk, meat and other food produce from around the world.
"China's demand for imported food is great," said Bi Kexin, director of the Import and Export Food Safety Bureau of the General Administration of Customs, at the ongoing expo.
China imports a large amount of meat, dairy products, fruits and nuts from more than 180 countries and regions around the world, and this trend will continue, Bi added.
According to official data, China's meat imports in 2017 reached 3.88 million tons, worth $9.5 billion.
With the increase of income and the optimization of consumption structure, China's dairy consumption market holds "huge potential," said Li Chenggang, assistant minister of commerce.
China imported 2.557 million tons (worth $9.3 billion) of dairy products from 60 countries and regions in 2017, up 13.3 percent and 36.1 percent respectively from 2016, making it the fastest growing food import that year.
The top 10 Chinese food import sources, namely the United States, Australia, New Zealand, Indonesia, France, Thailand, Canada, Brazil, Vietnam and Malaysia, will benefit from the market.