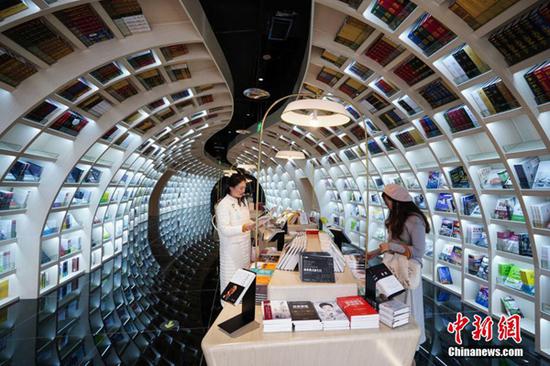 Neatly-arranged books are set on shelves at a new outlet of the Zhongshuge bookstore in Guiyang City, Southwest China's Guizhou Province, Oct. 29, 2018. . (Photo: China News Service/He Junyi)
(ECNS) - A new Zhongshuge bookstore is attracting many visitors for its unique designs in Guiyang City, Guizhou Province.
The outlet in Guiyang, which opened on Saturday, houses around 100,000 books in a 2,300-square-meter complex.
The entrance to the bookstore resembles a karst cave, with books suspended like stalactites along a corridor and lights on the floor giving the appearance of a river.
The bookstore's design also pays respect to some of the province's ethnic groups.
Zhongshuge bookstores are considered by many to be some of China's finest, with each one fully integrating local culture into the store. The chain boasts more than 10 bookstores in many Chinese cities.