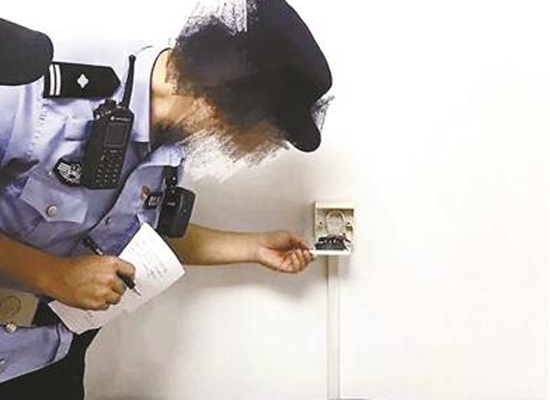 A policewoman checks a socket of a Ziroom apartment. (Photo/Beijing Youth Daily)
(ECNS) - Beijing police have launched an investigation into a camera hidden in a room leased from apartment rental service Ziroom.com.
A tenant, going by the pseudonym "Chen Cheng," said he happened to find a strange hole in a socket on the evening of Sept. 11 and suspected a hidden camera inside. He called police for help the next day who found a small video camera with a 16G memory card that can be accessed via Wi-Fi.
Chen said he and his wife had stayed in the room for several months before the discovery and he worries their privacy was infringed upon.
Chen added he didn't want to reveal the scandal to the public at first but Ziroom offered no solution after one month. He rented the room for 3,290 yuan ($475) a month. Besides, he also paid service fee of one month's rent to Ziroom.
Beijing police said an investigation is underway, Beijing Youth Daily reported. Ziroom said it will cooperate actively with the police probe.
A public relations manager at Ziroom said the company has strict requirements and management in home renovation and an initial check showed the socket used in Chen's room was different from the standard ones. Before Chen rented the room, it was used by other tenants.
Ziroom leases apartments from individual owners and then renovates them before subleasing to customers through its website and app.