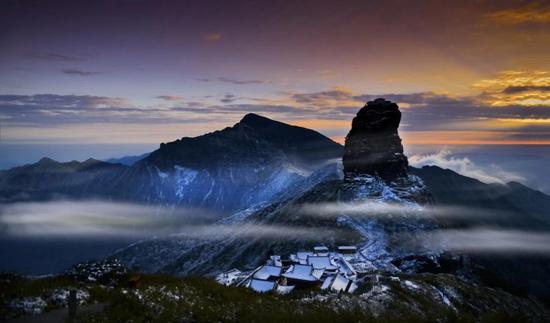 A file photo of Fanjing Moutain in Guizhou. Mount Fanjingshan was inscribed on the World Heritage List on July 2, 2018 at the 42nd World Heritage Committee meeting in Bahrain. The ecosystem of Fanjingshan has preserved large numbers of ancient relict plants, rare and endangered creatures, as well as unique species. (Photo provided by Zhou Wenqing)
China National Tourist Office announced Tuesday a new campaign, the "Beautiful China - Journey along the World Heritage," in Salt Lake City in the western U.S. state of Utah, aiming to attract more tourists from the United States.
The event sought to promote the 53 UNESCO World Cultural and Natural Heritage sites in China and bring innovative new products to the outbound tourism market in the United States.
During the event, which was also attended by representatives from Utah Office of Tourism, the tourism resources from all the 53 UNESCO World Cultural and Natural Heritage sites were unveiled to the public.
"From the iconic Great Wall, one of the first inclusions into UNESCO's World Cultural Heritage list, to Guizhou's Fanjing Mountain, the newest addition to UNESCO's World Heritage, China boasts a long list of must-see attractions," Wu Ning, director of China National Tourist Office in Los Angeles, said at the the special tourism promotion event.
"China is one of the countries having the largest number of World Heritage Sites waiting to be explored," she added.
China's UNESCO heritage list includes 36 Cultural Heritages Sites, 13 World Natural Heritage Sites and four Cultural and Natural (Mixed) Heritage Sites.
"It is a great opportunity to know more about China and it is also an effective way to expand friendship between China and the state of Utah," said Rachel Bremer, manager for Global Travel Trade and Destination Development from Utah Office of Tourism, adding that there are quite some partnership opportunities in China as Beijing will be the host city of the 2022 Winter Olympic Games.
As one of the four great ancient world civilizations, China has one of the most complete sets of heritage sites over a broad range and boasts the largest number of World Cultural and Natural Heritage Sites.
The country hosted a series of tourism promotion events in New York, San Francisco and Mexico City last year.