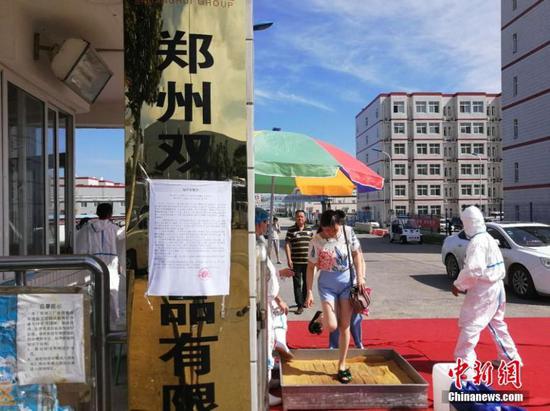 A worker was disinfected at the entrance to a plant of Shuanghui Group, China's largest pork producer and processor, in Zhengzhou City, Central China's Henan Province, Aug. 17, 2018. (Photo: China News Service/Liu Peng)
(ECNS) - China's Ministry of Agriculture and Rural Affairs has launched an investigation to determine the relationship among three African swine fever outbreaks, China National Radio reported on Monday.
Haizhou District in Lianyungang City, East China's Jiangsu Province, is the latest region hit by the virus, following outbreaks in Liaoning and Henan provinces earlier.
Since Aug. 15, about 615 pigs at a farm in Haizhou have been discovered with the African swine fever, which has killed 88 of them.
Haizhou authorities brought the pandemic under control after a series of measures that included culling pigs within a cordoned-off zone, according to the ministry.
The ministry is also working with police and other departments to trace the specific source of the virus, which was reported in three regions across approximately two weeks.
Zhou Lei, an associate professor at China Agricultural University, said it's not easy to identify the source because many factors can affect the spread of the disease.