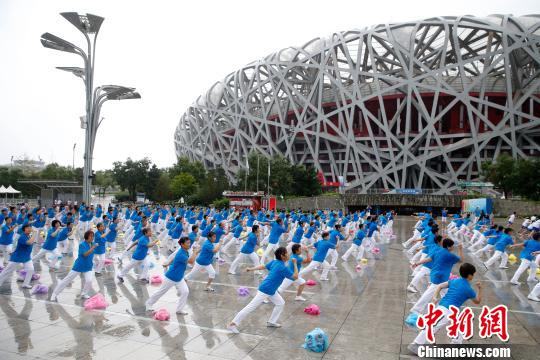 People do exercise at a square in Beijing to celebrate the 10th National Fitness Day, Aug. 8, 2018.
(ECNS) - Organizers of the Beijing 2022 Olympic and Paralympic Winter Games launched a worldwide campaign to seek mascot designs on Aug. 8, the 10th anniversary of China's successful hosting of the Summer Olympic Games in 2008.
Cai Qi, Beijing mayor and also chairman of the organizing committee, led other officials to announce the campaign in a grand ceremony that included a show of calisthenics by 2,022 people from all walks of life.
Zhang Jiandong, deputy mayor of Beijing and executive vice chairman of the organizing committee, said the mascot is an important visual element for the Games and is also the most popular and most commemorative Olympic brand image.
The design collection period will last from Aug. 8 to Oct. 31, with the final winner to be announced in the second half of 2019 after passing rigorous procedures including expert review, revision and public review.
A prize of 10,000 yuan ($1,460) will be awarded to each of the 10 shortlisted design proposals selected for the finals by the review committee. Each of the top three designs will receive 30,000 yuan. Winning proposals for the design of the Beijing 2022 Olympic Mascot and Beijing 2022 Paralympic Mascot will each receive a prize of 100,000 yuan.
In the run-up to the Winter Olympic Games, Beijing has unveiled an action plan to speed up preparations as well as public participation in winter sports, with a plan to create a new set of bodybuilding exercises for the public designed for winter and snow sports.
Aug. 8 is also National Fitness Day, established to encourage people to work out.