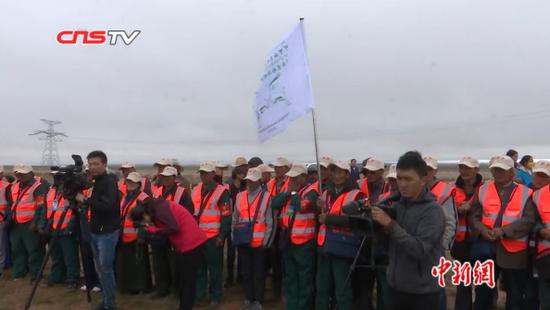 A team of 40 members is formally established to protect the migration of endangered Tibetan antelopes in Sanjiangyuan National Park, Aug. 7, 2018. (Photo/Screenshot on CNS TV)
(ECNS) - A 40-strong team was formally established on Tuesday to protect the migration of endangered Tibetan antelopes in Sanjiangyuan National Park, northwest China's Qinghai Province.
Sanjiangyuan, which literally means "source of three rivers", is home to the headwaters of the Yangtze, Yellow, and Lancang (Mekong) rivers.
Established in Qinghai during 2000, Sanjiangyuan Nature Reserve is expected to be China's first national park in 2020, according to a Xinhua report.
The bureau in charge of the park's Yangtze River zone in Qumarlêb County organized a flag-giving ceremony for the team on Aug. 7. It will be responsible for protecting Tibetan antelope migrating from Lechi Grassland to Zonag Lake in Hoh Xil where the animals give birth.
Lechi Grassland, located near the county's Lechi Village, is the natural habitat to hundreds of thousands of these animals. In 2006, local villager Gasang initiated a Tibetan antelope protection association and now leads the new team after 12 years of voluntary service.
Gasang said he patrols the mountains three times a month and has been doing this for more than 12 years.
Gata, chief of the ecological and natural resource department of the bureau, said the 40 members will split into four groups to escort the Tibetan antelope throughout their 260-kilometer migration.
Members will mainly ride motorcycles and horses to safeguard the one-month migration, often affected by violent dogs and wolves as well as human activities.
Han Jianbing, deputy head of the bureau, said rangers will protect both wildlife and the environment. They will also need to keep a log of the Tibetan antelope, including their birth and survival data.
Local authorities are planning to improve the service by using advanced equipment to monitor the migration and inviting experts to train members to understand the habits of the Tibetan antelope and control risks.