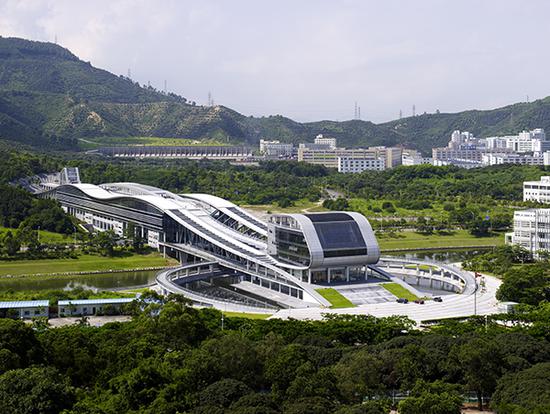 The University Town Library of Shenzhen is also known as the Shenzhen Science and Technology Library. (File photo)
(ECNS) - A library in Shenzhen, one of China's booming modern metropolises and a technology hub, has become the focus of discussion after it closed its doors to children under-14.
University Town Library of Shenzhen, also known as the Shenzhen Science and Technology Library, is the first library that functions as both a public and academic library shared by graduate schools of four universities - Peking University, Tsinghua University, Harbin Institute of Technology and Nankai University - as well as local residents.
On July 31, staff at the library said it mainly serves teaching and research purposes, so does not have children's books. The new regulation was introduced because children in the library caused a growing number of complaints as they bustled around.
The environment in the library has been greatly improved since the regulation took effect on July 9, Beijing Morning News reported.
A manager from another library in Shenzhen said he thinks the ban is necessary because some parents who live nearby often left their children to themselves in the library, which is air-conditioned.
A netizen called #huisihuixiang said a library for university students should not be regarded as a day-care center. Another netizen, #Luwu, said it's a reasonable move but public libraries should also open zones for child readers.
#Yuanshankaren, who also supported the ban, said books in the University Town Library of Shenzhen are not suitable for young readers, but children should be allowed to stay in a certain area if they really want to be there.