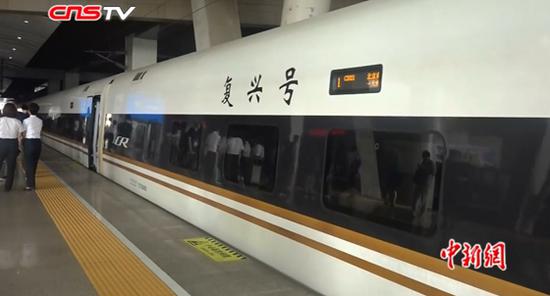 A Fuxing bullet train running on the Beijing-Tianjin intercity rail line arrives at a railway station, Aug. 1, 2018. (Photo/Screenshot on CNS TV)
(ECNS) - The speed of Fuxing bullet trains running on the Beijing-Tianjin intercity rail line increased to 350 kph starting from Aug. 1 as the important transport route marks its 10th anniversary.
The Beijing-Tianjin line, China's first high-speed service, entered operation in August 2008.
Fuxing trains are a substantial upgrade on the previous Hexie, or Harmony models. Entirely designed and manufactured in China, the Fuxing, or Rejuvenation, debuted on the Beijing-Shanghai line on June 26, 2017. The trains are more spacious, reliable and energy-efficient and have a longer service life than previous models.
All high-speed trains used for the Beijing-Tianjin line will convert to Fuxing trains, providing a better travel experience between the two municipalities, said Zhu Dianping, an official with the China Railway Corporation (CRC)'s Beijing bureau.
Authorities are also encouraging passengers to share their suggestions for improving the railway service, such as by scanning a QR code. As part of 10th anniversary celebrations, train attendants are donning uniforms of different periods to show the changes made within a decade. Passengers can also use an app to order freshly ground coffee before boarding their train.
The Beijing-Tianjin line has carried more than 250 million passengers and played an important role in serving the Beijing Olympic Games while promoting the coordinated development of Beijing-Tianjin-Hebei, according to the CRC's Beijing branch.