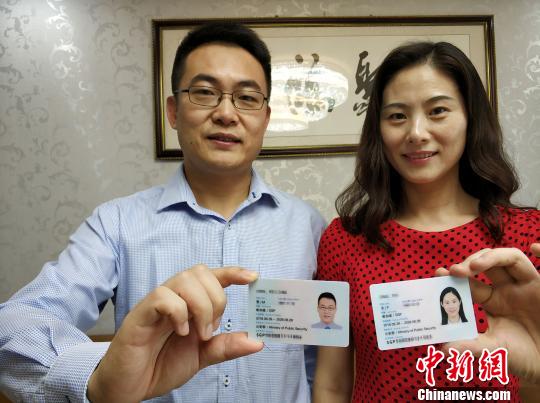 Singaporean Chinese Chen Peiliang (L) and his wife show their "green cards". (Photo provided to China News Service)
(ECNS) -- A Singaporean Chinese couple has become the first in Chongqing to be issued a permanent "green card", or Chinese residency permit for foreigners, thanks to a recommendation from the city's Pilot Free-Trade Zone.
Chen Peiliang has worked four years in Chongqing as a senior manager at an airline company based in the zone, allowing him to join the city's recognized list of high-caliber foreign talent.
Chen said getting the card helps relieve his worries.
Chen and his wife are also the first foreigners in China to acquire the residency permit through the Pilot Free-Trade Zone since the State Immigration Administration was established this year.
Like the identity cards used by Chinese citizens, foreigners' identity information is embedded in the chips of the machine-readable cards, which can be shared with railway and airline departments, hotels and banks.
To promote reform and opening-up, Chongqing's Public Security Bureau launched 14 measures to facilitate the entry and exit of foreigners, including issuing permanent residency status to high-level individuals working in the Chongqing Free-Trade Zone and their spouses and minor children. "Green card" applications require the recommendation of the zone's authorities.