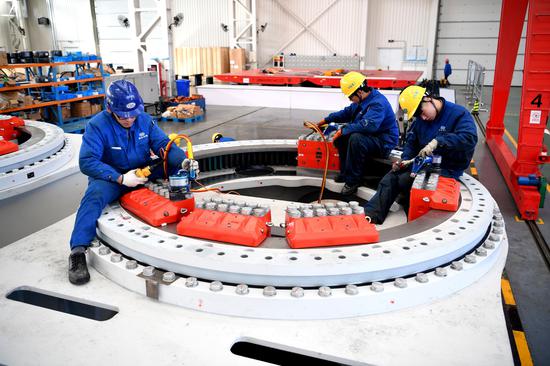 Employees from a subsidiary of China Shipbuilding Industry Corp install clean-energy equipment in Nantong, Jiangsu Province. (Photo/Xinhua)
China has decided to form a professional and market-oriented investment platform for better managing its State-owned assets, as the government seeks to further accelerate reforms and exercise its rights as majority shareholders in these firms, a top Finance Ministry official said.
Several solely State-owned asset investment and operation companies, under the aegis of the State Council, or the country's cabinet, will be established this year, to either invest in national strategically-important projects or purchase shares of profitable enterprises for higher returns, Xu Hongcai, assistant minister of finance, said at a news conference on Wednesday.
Instead of participating in the operation and administration of SOEs, the new companies will focus on managing the capital, facilitate adaptive capital flows and make effective investments, said the official.
"The companies will operate according to market-oriented rules and there will be minimal administrative intervention from the government."
The new asset investment and operation companies will be set up either via restructuring or new registration, and the pilot programs will be chosen from the SOEs that are currently supervised by the ministry, said Xu.
Prior to this, 10 pilot State-backed asset management companies had already started operations under the authority of the State-owned Assets Supervision and Administration Commission, the State asset regulator.
Wen Zongyu, director of the State-owned Research Institute for Fiscal Science under the Finance Ministry, said that the new platform will have separate asset management functions from SOEs and seek out more professional investors. It will let the SOEs focus more on their main business to improve production, technological innovation or the nonfinancial business.
According to a detailed guideline issued by the State Council on Monday, full-scale assets or part of the SOE assets will be transferred to the new asset managers and some "market-oriented measures" will be used to dispose of the nonperforming assets accumulated while cutting excess capacity.
SOEs account for nearly 50 percent of all listed companies in the Chinese stock market by market value and stable profit growth of such enterprises are vital for economic growth in the second half of the year.
Most of the reforms that were introduced recently are aimed at restructuring the capital resources effectively, said Zhang Xia, an analyst with China Merchants Securities.
China has accelerated a series of reforms for SOEs recently, including speeding up mergers and acquisitions and the setting up of a cabinet-level special working group for SOE reform, moving toward mixed ownership and market-oriented management.