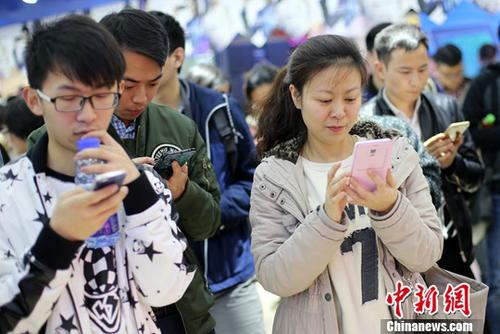 People read information on their mobile phones. (Photo/China News Service)
(ECNS) - Chinese Internet users are widely interested in science, with health and medical care, technology and aerospace the hot topics in popular science, said a report by China Research Institute for Science Popularization.
Established in 1980, the institute that mainly studies science and technology communication said interaction between the public and science has changed a lot amid the popularity of the Internet, making the online recipients of popular science younger and topics more specific.
The report shows netizens mainly obtain popular science information through mobile devices, with young people aged 18 to 40 the main audience in science popularization. Men are more interested in learning about popular science than women.
In 2017, the Internet search index for popular science topics reached 7.431 billion, an increase of 51.68 percent over the previous year, the report said.
Health and medical care have always been a focus of public science, but current efforts cannot meet the needs in either quality or quantity, according to the report.
With the development of China's aerospace industry, public interest in the exploration of the universe has rapidly increased, requiring more scientists to participate in the public discourse, said the report.
Gossip and rumors have always gone hand-in-hand with science. The report shows that so-called science reports account for 47 percent of all types of online rumors. Among them, space rumors about aliens and wormholes were the most numerous and widespread, accounting for 54.1 percent of science topics.
Rumors about food safety and health were also widespread but only 1.1 percent have been clarified by professionals.
The report calls for more well-known scientists to participate in the publication and evaluation of science information.