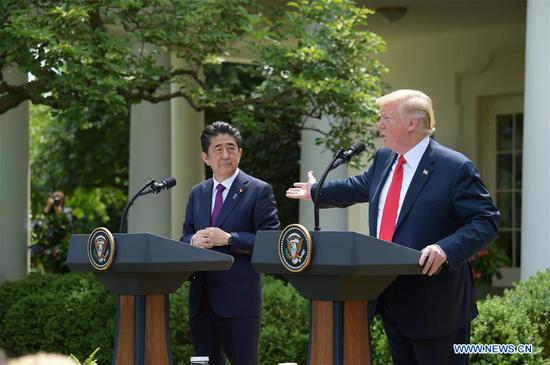 U.S. President Donald Trump (R) and Japanese Prime Minister Shinzo Abe attend a joint press briefing at the White House in Washington D.C., the United States, on June 7, 2018. (Xinhua/Yang Chenglin)
U.S. President Donald Trump and visiting Japanese Prime Minister Shinzo Abe on Thursday expressed a positive attitude towards Trump's upcoming meeting with Kim Jong Un, the top leader of the Democratic People's Republic of Korea (DPRK), in Singapore.
POSITIVE ATTITUDE
"Maybe we'll start with the White House," Trump said at a joint press briefing at the Rose Garden of the White House with Abe.
"But certainly if it goes well. And I think it would be well received. I think he would look at it very favorably. So I think that could happen."
Speaking of the meeting with Kim, Trump expected "a great success" and a longer "process" after that.
"I don't think it will be in one meeting. I think it will take longer than that. This has been going on for many, many decades," he said.
"We could absolutely sign an agreement," he said. "But that's really the beginning. Sounds a little bit strange, but that's probably the easy part; the hard part remains after that."
He also said that he and Abe have agreed to help the DPRK "if the deal is done,"
Trump added that Kim's personal letter to him carried a very warm and nice "greeting," which he appreciated very much.
Abe said he "strongly" hopes that "this historic summit in Singapore (will) be a resounding success."
"Japan, based on the Japan-North Korea Pyongyang Declaration, is prepared to settle the unfortunate past, to normalize our diplomatic relations, and to provide economic cooperation," he said.
"Japan stands ready to make every effort ... for the success of U.S.-North Korea summit," Abe said, adding that "Japan and United States will be in full alignment to seek success" for the meeting.
SANCTIONS TO CONTINUE
However, both Trump and Abe said they will not lift the current sanctions on the DPRK.
"We have a list of over 300 massive, in some cases, sanctions to put on North Korea. And I've decided to hold that until we can make a deal, because I really believe there's a potential to make a deal," Trump said, adding he is fully prepared to walk away from the Singapore meeting if it does not go well, as he did to the historic Iran nuclear deal.
Earlier on Thursday, Trump told the media before his meeting with Abe that the meeting with Kim will be "a very fruitful" and "exciting" one.
"I think we're going to get to know a lot of people that our country never got to know," he said. "I'm very well prepared."
He added that his stay time in Singapore has not been decided.
"One, two, three -- depending on what happens," he said. "It's going to be much more than a photo op. I think it's a process."
POMPEO'S TRAVEL
Later on Thursday, U.S. State Department said in a statement that Secretary of State Mike Pompeo will travel to meet with senior officials of Japan and South Korea and make a stop in China after the Singapore meeting.
"I'll provide them with an update and underscore the importance of fully implementing all sanctions that are imposed on North Korea," he explained. "The President ... looks forward to a day when sanctions on the DPRK can begin to be removed."
The statement came on the heels of Pompeo's announcement in a separate press briefing at the White House that he will travel to meet with his Japanese and South Korean counterparts, which made many believe that Japan was also listed in his planned destinations.
When asked if there has been progress in the definition of denuclearization, Pompeo said "yes."
"We know this has been a long, intractable challenge ... It's not about who has the upper hand. It's about trying to find a way where the two sides can come to an understanding, where we can get concrete steps, not just words, that resolve this challenge," he said.
When asked how the Trump administration can guarantee long-term security for the DPRK, Pompeo said: "We're hoping to submit a document that Congress would also have a say in -- that would give currency and strength and elongation to the process, so that when administrations do change ... Chairman Kim will have comfort that American policy will continue down the same path, on the course that we hope we're able to set in Singapore."