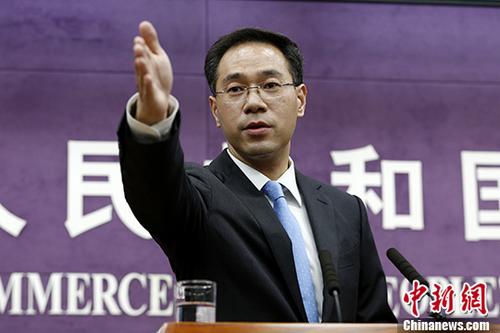 Gao Feng, spokesperson for the Ministry of Commerce, addresses a press conference, May 31, 2018. (Photo/China News Service)
(ECNS) -- China's total trade volume with Shanghai Cooperation Organization (SCO) member countries rose to $217.6 billion in 2017, a 19 percent surge from the previous year, said Gao Feng, spokesperson for the Ministry of Commerce.
Gao said the SCO is not only an important platform to promote the land-based Silk Road Economic Belt, but also links with the Maritime Silk Route Economic Belt connecting European and Asian markets.
The SCO has made remarkable strides in economic and trade cooperation in the 17 years since its founding, said Gao.
China's exports hit $150.3 billion, a year-on-year increase of 15.1 percent, and imports reached $67.3 billion, a year-on-year rise of 28.5 percent. In the first quarter of 2018, trade continued to maintain good momentum with an increase of 20.7 percent. The structure of China's trade with SCO member states has been gradually optimized to include a growing a proportion of mechanical and electrical products as well as machinery and equipment.
Development of the SCO also has brought fruitful investment and contracting projects. By the end of March, the total investment in SCO member states was approximately $84 billion, with sound progress in many large-scale energy, mineral and industrial projects.
Gao said positive progress has been made in interconnection and interoperability, such as the completion of the China-Kyrgyzstan-Uzbekistan road, the China-Central Asia natural gas pipeline, and the construction of the China-Kazakhstan and China-Russia crude oil pipelines.
The SCO has initially formed a complex infrastructure network including roads, railways, oil and gas, and communications within the SCO region, further strengthening ties among member states, it was added.