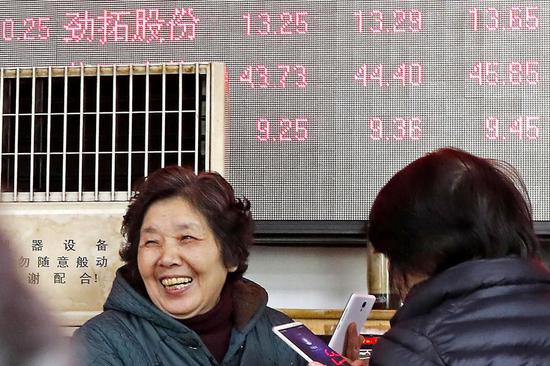 An investor smiles after checking share prices at a securities brokerage in Shanghai. (Photo/China News Service)
In 2015, when China's bourses and the currency witnessed a dramatic meltdown, fears arose about the perceived side-effects of the opening-up policy on the capital market. Now, it appears, such fears may have been unfounded.
Back then, unprecedented market volatility prompted the government to take contingency measures to prevent a domino effect that could have threatened the country's financial security and stability.
But such measures were by no means equivalent to slamming the door on the rest of the world to isolate the world's second-largest economy from the wider global financial system.
China has held fast to its desire to further integrate its market into the global economy. The latest set of measures to further liberalize the capital markets reinforces that desire.
Foreign investors have been granted greater capital quota to trade Chinese stocks through the trading links, or stock connects, between the mainland and Hong Kong.
A similar trading link between Shanghai and London is also scheduled to start this year for greater two-way trading between China and the United Kingdom. Foreign fund managers will be also allowed to raise more capital from their Chinese clients and to invest them in overseas markets.
From international investors' perspective, China, one of the most politically stable and fastest-growing economies, offers some of the best growth opportunities in the world.
A capital market open to foreign investment also makes sense for ordinary Chinese families as it will widen their investment scope and gives them more options and greater flexibility to manage their wealth.
There was a time when the stock market used to be regarded as a virtual casino where the rich and the risk-takers got richer all the time. But with family incomes rising steadily over the years, there has been a genuine need for better financial services and investment instruments, to enable middle-income people to make serious financial plans for old-age pension, post-retirement benefits, or for children's education.
A friend of mine who works as a product manager at a well-known Chinese e-commerce company, and earns an annual salary of $100,000 (or around 640,000 yuan), had been very unwilling to invest her savings in the A-share market. Why? "Well, isn't it some sort of a gambling den?" she used to say.
But even she is having second thoughts now. "If opening-up could help nurture a mature market, I think it'd be a good thing because small investors like me could finally make some serious investment decisions, which hopefully could help grow their wealth."
People are familiar with "Made in China", the story how the world's most populous nation morphed from a poor country into the world's manufacturing hub by opening its economy to foreign companies and capital.
The next story, it would seem, will be "Trade in China".