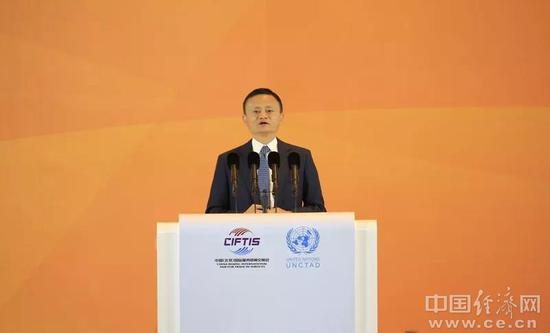 Jack Ma, the founder of Chinese e-commerce giant Alibaba, speaks at the Beijing International Fair for Trade in Services, in Beijing, May 28, 2018. (Photo/www.ce.cn)
(ECNS) - Jack Ma, the founder of Chinese e-commerce giant Alibaba, has called for young people to embrace the modern service industry, which he believes will be the key to a futuristic city.
At the Beijing International Fair for Trade in Services, organized by the Ministry of Commerce and the Beijing municipal government, Ma said a city's future lies in the service industry because it will hold the key to employment opportunities instead of other sectors like manufacturing.
In the next 30 years, the influence of technology will penetrate deeply into every aspect of society, bringing fundamental changes to trade, employment, and manufacturing, Ma said.
Machines will take up most of the work in manufacturing while more people will be needed to perform roles that can't be replaced by machines, such as design, creation, and experience, he said.
Cities in the future will need to be more open, as openness forms the biggest competitive edge and globalization is an irresistible trend, he said.
In the past, cities were designed to serve industrial manufacturing but future cities need to be people-orientated and livable, so green growth will be key, he said.
A futuristic city may consume as little as one-tenth of the water, electricity, and land resources of today's cities, thanks to the use of Big Data, and more space will be returned to nature, said Ma.
Big cities need to have long-term vision and intelligent urban planning, so they can be home to increasing numbers of people and able to realize ambitious dreams.
In his speech, Ma also shared his story of hardship as yesterday's underdog, saying he was once a "beipiao" who experienced all kinds of setbacks and frustrations in Beijing, living in underground housing and taking crowded buses at 6am.
Beipiao, literally translated as "Beijing drifter," is a term coined in recent years for people who have migrated to Beijing for work but without Beijing hukou (permanent residence) and change dwellings often.