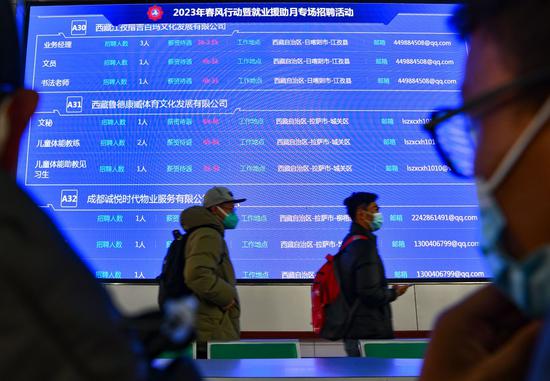 Job seekers are pictured at a job fair in Lhasa, capital of southwest China's Tibet Autonomous Region, Feb. 8, 2023. (Xinhua/Jigme Dorje)
Following China's adjustment to its COVID-19 response, the country's economy is rebounding quickly, creating new employment opportunities, which gives people much confidence to find jobs.
As one of China's major industrial provinces, Hubei has been running the "Spring Breeze" event since early January, which aims to offer people employment opportunities by holding job fairs across the province.
"Unlike in past years, companies develop with a strong willingness to hire this year," said Liu Yanhong, head of the provincial human resources and social security department.
Hubei will hold nearly 2,500 job fairs from January to March, with 856,000 jobs on offer from 20,000 companies.
At the job fair in Huarong District, 8,000 jobs offered by companies have attracted job seekers, including Hu, who used to be a plumber but was laid off for half a year.
"Just as I expected, this year's job fair is quite busy," Hu said, adding that he has consulted several companies that are all expanding the recruitment of plumbers this year.
"They all want to hire me," Hu said. "I prefer to choose a building materials company that provides a decent salary, and I'll have a try the next day."
Meanwhile, express logistics positions were popular, attracting many young applicants.
"The express logistics industry is recovering with the rebounding economy," said Tan Kai, a recruiter of an express company. "The recruitment need of the entire express logistics industry is increasing significantly this year."
Busy job fairs directly reflect China's economic vitality. At another job fair held in Hubei's Tianmen City, plenty of sewing job opportunities mirror the rapid development of the local clothing industry.
To promote the clothing industry's development, Tianmen invested in a "Clothing Town" of 5,300 mu (about 353 hectares) in recent years and has planned to introduce over 50 garment enterprises.
Eleven garment enterprises have moved in and started production with 4,500 employees.
"The continuous entry of such enterprises has created many job opportunities. This year, the "Clothing Town" has provided 1,000 new jobs, and sewing positions are the most in short supply," said Zhu Jundong, administrative staff of the "Clothing Town."
Hubei has also set up a series of livestreaming recruitment events to expand recruitment where enterprises explain their job requirements and answer any questions the audience may have in real-time.
Up to now, Hubei has held over 2,000 online and offline job fairs, helping over 215,000 people find jobs, according to the provincial human resources and social security department.