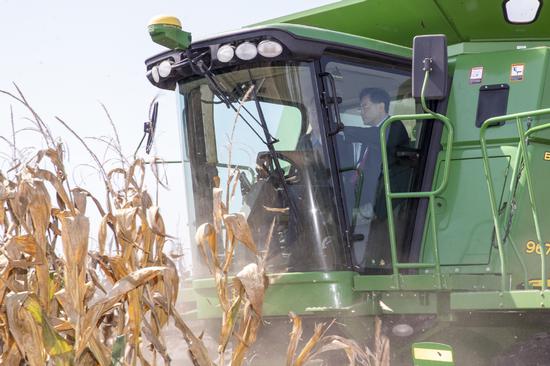 Chinese Ambassador to the U.S. Qin Gang on Friday visits Warren Stemme Farm in a western suburb of St Louis, Missouri. Warren Stemme, the owner of the farm, and Qin are driving a combine harvester together to harvest corns. (LIAO PAN/FOR CHINA DAILY)
Envoy calls for closer bilateral ties on agricultural technology, climate action and sustainable development
China's Ambassador to the United States, Qin Gang, on a trip to the U.S. Midwest, has called for the two countries, both major producers of farm products, to work more closely together on agricultural technology, climate action and sustainable development.
"I believe as China pursues high-quality development, our demand for technology and services in agriculture green development will become as strong as that for agriculture products," he said at the U.S.-China Sustainability and Climate Smart Agriculture Roundtable Discussion in St Louis on Friday.
"Our market will remain open and we will continue to share the huge opportunities with American farmers, ventures, institutions, companies that want to collaborate with China," Qin said.
"It is our common responsibility to promote sustainable agriculture and to protect global food security for future generations."
In April, Qin said, he had gone on an agriculture-focused tour of Illinois, Iowa and Minnesota and had gotten to know many farmers and others devoted to China-U.S. agriculture collaboration.
"I saw how the seeds of such collaboration are deeply rooted in the vast heartland. I promised my friends there: 'See you in the harvest.' So today I'm back."
Qin said he took a keen interest in U.S. agriculture during his last trip.
"We have seen that U.S. farmers and agriculture businesses need China, can benefit from China, and look forward to greater engagement with it."
He had been fortunate to be a "one-day farmer" on the Kimberley farm in Iowa, he said, a farm President Xi Jinping had cited as an example of modern farming technology when he visited as vice-president of China.
U.S. farms have not only reduced greenhouse gas emissions but have also used carbon capture and sequestration, he said, and that China-U.S. collaboration in agriculture should go beyond the simple model and delve into agricultural technology, climate action and sustainable development.
China has set the targets of reaching a peak in its carbon emissions by 2030 and of achieving carbon neutrality by 2060.
"Though we have not yet completed industrialization and urbanization, with constant energy demand, we are determined to meet these targets within this short time," Qin said. "This is our commitment to the people and to building a community with a shared future for mankind.
"We believe agriculture is a contributor to China's green development, and agriculture can also create new growth potential."