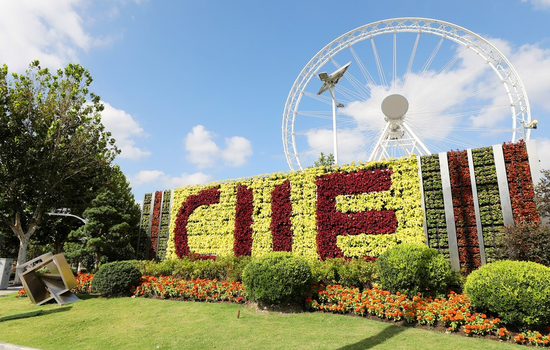 Decorative plants for the fourth China International Import Expo at the National Exhibition and Convention Center in Shanghai on Oct 5, 2021. (Photo/Xinhua)
Shanghai is gearing up for the upcoming fourth China International Import Expo and ensuring services including transport, accommodation and volunteers are all in place. This year's CIIE is scheduled to be held offline from Nov 5 to 10 at the Shanghai National Exhibition and Convention Center.
Shanghai has singled out 179,700 hotel rooms for CIIE participants after evaluating a set of criteria such as distance from the exhibition venue, the hotels' scale and reputation. City authorities have also taken measures to make room prices stable as demand is expected to soar during the CIIE.
As for transport, Shanghai has held several drills to make sure it will have no problem providing good services for the expo and can properly handle emergencies.
According to Shanghai-based newspaper Wenhui Bao, there are 20 temporary parking sites around the CIIE venue which can provide parking slots for 1,100 buses and 1,000 small passenger cars. The shared parking site in the Hongqiao business district, which is a short distance to the CIIE venue, can provide nearly 4,000 parking spaces for small cars on weekdays and 6,000 on non-working days.
In addition, Suishenban, a one-stop local government affairs service app, will launch a real-world 3D map of the expo, displaying relevant information about the CIIE's traffic control area and surrounding public transportation and parking lots. This will help to enhance the interactive experience.
Wenhui Bao reported it expects more than 4,800 volunteers from 40 universities in Shanghai to serve at the expo this year.