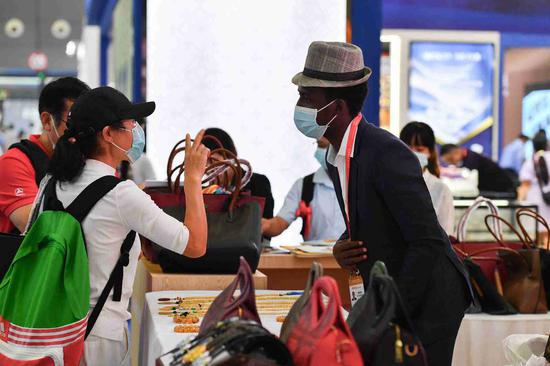 A visitor (left) inquires about African products at the second China-Africa Economic and Trade Expo in Changsha, Hunan province, on Sept 28. More than 300 African enterprises displayed their products offline during the offline-and-online expo.(Photo/Xinhua)
Investments up; focus shifts from resources to foods, processed goods
Zhu Shenghong, sales director of Pianyu (Beijing) International Trade Co Ltd, was extremely busy during the second China-Africa Economic and Trade Expo in Changsha, capital of Central China's Hunan province.
The company owns a winery called Havana Hills in South Africa and sells as many as 13 labels of wines from the winery that cover premium, midrange and low-end markets in China.
During the expo that was held from Sept 26 to 29, Zhu not only took care of the company's exhibition booth to demonstrate wine products to visitors, but also attended quite a few African wine-tasting events and promotions.
"It was quite a span of busy time, but I was glad to see expo visitors' intense enthusiasm for African wine, especially among Chinese young people aged 20 to 35," Zhu said, adding she is very bullish about the prospects for African wine in the China market, especially that from South Africa, a major wine-producing hub in the continent that has quite distinctive offerings.
The South African authorities are stepping up efforts to promote their produce in China, and the country's government even paid for the exhibition and boarding expenses for Zhu's company to take part in the wine-themed exhibition at the expo, she said.
Zhu's company is just one of the many that benefit from the deepening economic and trade cooperation between China and African countries.
The four-day event, themed "New Start, New Opportunities, and New Accomplishments", was held both online and offline to mitigate the impact of the COVID-19 pandemic.
More than 300 enterprises from more than 40 African countries displayed their products at the offline exhibitions, and 135 projects worth $22.9 billion were inked, both surpassing the corresponding figures of the first expo, which was also held in Changsha in 2019.
The event had a series of forums, conferences and exhibitions to showcase the achievements and potential of China-Africa economic and trade cooperation, in areas like food and agricultural products, medicine and health, infrastructure and finance.
The main venue, the Changsha International Conference Center, held exhibitions on China-Africa economic and trade cooperation, displaying images of African countries and commodities in a space of about 64,000 square meters, up by 24,000 square meters from the first expo.
The second venue, Changsha's Gaoqiao Grand Market, with a total exhibition area of about 30,000 square meters, had a permanent exhibition pavilion, and five specific areas for coffee, nuts, cocoa, other agricultural products from Africa and Chinese products exported to Africa.
Experts and business owners said the expo is a major platform for strengthening economic and trade cooperation between China and African countries, and China-Africa economic and trade cooperation has maintained its dynamic momentum despite the impact of the pandemic, bringing benefits to people on both sides.