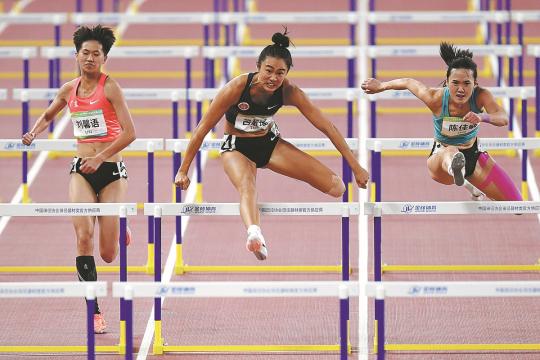 Lui Lai-yiu of Hong Kong competes in a 100m hurdles heat during the 14th National Games at Xi'an Olympic Sports Center on Tuesday. Lui failed to advance but said she was still thrilled to represent the special administrative region at the showpiece. (CHINA DAILY)
Delegation savoring spirit of comradeship at National Games, while top-level competition boosts SAR's athletic ambitions
Relishing the warm hospitality and elite-level competition, Hong Kong's athletes and officials say they feel right "at home" at the ongoing National Games in Shaanxi province.
"I really enjoy participatin in the National Games, because here we feel we are back home," said Cheng King-leung, the acting director of the Hong Kong delegation.
"When we participate in international tournaments, fans probably do not notice or know us when the Hong Kong athletes walk into the stadium.
"But just take a look at the opening ceremony of the 14th National Games, all the spectators in Xi'an were cheering for us when the Hong Kong delegation entered the stadium."
Sports climber Au Chi-fung, the flagbearer of the Hong Kong delegation at the opening ceremony, is among those HK athletes who are deeply impressed by passion of the spectators in Xi'an.
"I heard deafening sounds of cheering when I stepped into the stadium during the opening ceremony. I was so excited. When I heard them cheering for us, I just wanted to wave our flag faster to respond them, but actually the flag is really heavy," Au told China Daily.
"I felt the warm atmosphere inside the stadium. The spectators in different sections cheered for us, raising the volume once we were close to them. Our Hong Kong athletes made sure to wave back and interact with them."
This is Hong Kong's seventh appearance at the National Games since debuting in 1997. This year the HK delegation boasts 169 athletes competing in 18 sports, and by their own assessment, the experience is proving mutually beneficial.
"Hong Kong people love many sports stars from the Chinese mainland. It's not just about their athletic achievements. More importantly, the stories of their effort and persistence to win is very encouraging," Leung told Nanfang Metropolis Daily.
"The young diving Olympic champion Quan Hongchan is very famous in Hong Kong now, for example, because it's been a long time since we have witnessed a diver of such talent. In addition, sprinter Su Bingtian gave all the Chinese people huge inspiration and also refreshed the Asian (100m) record.
"I also noticed the news that players from the Hong Kong table tennis team were thrilled to shake hands with Olympic champion Liu Shiwen at the National Games. They are so glad to have a chance to communicate and learn from the Guangdong squad.
"I think it's a good thing that people are discovering more about our Hong Kong athletes. I know some of our athletes have been very active in the Chinese mainland. Apart from their performances on the field of play, they have many more other shining characteristics, such as their spirit of fighting against the odds, which can inspire the next generation in China."