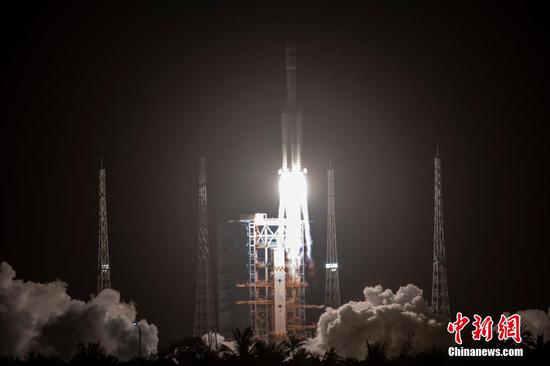 Tianzhou 2, a robotic cargo ship, blasts off on a Long March 7 carrier rocket at the Wenchang Space Launch Centerin in Hainan, on May 29, 2021. (China News Service/Luo Yunfei)
A small proportion of debris from a Long March 7 carrier rocket fell back to waters in the southern Pacific Ocean on Tuesday afternoon, said the China Manned Space Agency.
According to analysis of tracking data, most of the debris burned out during the atmospheric re-entry that started around 4:49 pm, the agency said in a brief statement.
The rocket, the third in the Long March 7 series, blasted off at a coastal launchpad at the Wenchang Space Launch Center in Hainan province on May 29, sending the Tianzhou 2 robotic cargo ship to a low-Earth orbit to dock with the core module of China's Tiangong space station.
Propelled by pollution-free fuel, each Long March 7 is 53.1 meters tall and has a core-stage diameter of 3.35 meters. With a take-off weight of 597 metric tons, the rocket is capable of sending 13.5 tons of payloads to the low-Earth orbit or 5.5 tons to the Sun-synchronous orbit.
One of China's most adventurous space endeavors, the Tiangong station will consist of three main components — a core module attached to two space labs — with a combined weight of nearly 70 metric tons. The entire station is set to work for about 15 years, mission planners have said.