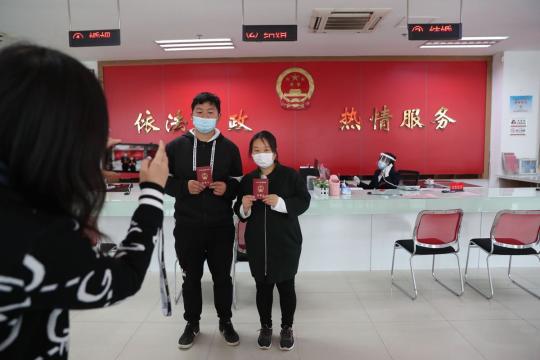 Xie Linhui (left) and Shang Qin get their marriage certificates at the marriage registration office in Qiaokou district in Wuhan, Hubei province, on Tuesday. (Photo by Wang Jing/China Daily)
Special: Battle Against Novel Coronavirus
Couples in Wuhan, Hubei province, have been heading to marriage-registration offices and wedding photography studios as they try to get their lives back on track. After the lockdown, any day is considered a lucky one to get married.
"My fiancee is still choosing the date to get our marriage certificate, but I just want to marry her now. If we can get through the lockdown together, we can get through life together," said Lyu Jing as he watched her slip into a wedding gown for a photo shoot at an Aviva Wedding Photography studio on Tuesday.
The couple from Wuhan initially booked the session in January and planned to go to the marriage registration office in March, but their plan was interrupted by the city's lockdown on Jan 23, which aimed to stop the virus from spreading to other parts of China and the world.
As soon as the studio reopened for business on April 8-the day when the lockdown ended-Lyu, 37, decided to rebook the session to mark the new beginning of their life together.
"Although we often quarreled over tiny things during the lockdown because of the frustration and fear, we supported each other during a tough time. The outbreak has made our relationship stronger," Lyu said.
On the day of Spring Festival, Jan 25, he changed the wallpaper on his cellphone into a cartoon featuring the character of Zhong Nanshan, China's leading respiratory disease expert, as a charm to shield his family from the virus. "It's still too early to change the wallpaper," he said.
Chen Si, Lyu's fiancee, still had safety concerns over the photo session "because the couples are unlikely to take wedding pictures with masks on, so it will be a disaster if they are virus carriers," she said. She also decided to cut the outdoor shooting locations from two to just one.
"The demand for wedding photos is high after the lockdown because couples all want to resume their wedding plans. But we decided to serve only two or three couples a day instead of more than 16 before the outbreak over safety concerns," said Guo Xiaofan, manager of the wedding photography studio. The studio also canceled all outdoor shooting sessions at Wuhan landmarks, which can be relatively crowded, Guo added.
Some couples had special requests during the photo shoots to mark their role in fighting the outbreak.
Liu Zhenwu, 29, drove three hours to Wuhan from Jingmen in Hubei with his fiancee to have their wedding photos taken at the studio on Tuesday. He also secretly put two white protective suits in the trunk of the car without telling his fiancee, Gao Ting.
"I was a volunteer helping to transport epidemic control gear to Jingmen from other places in protective suits, and I am very proud of it. So I really want to take a wedding picture in those suits to mark this extraordinary time of my life, but I wasn't sure about Gao's opinion," Liu said.
However, Gao didn't like the idea. "I don't need to have a wedding photo to remind me of the outbreak, it has already left a permanent mark in the memory of all Hubei people," Gao said.
The marriage registration office in Wuhan's Qiaokou district reopened on April 8. "Many couples are in a hurry to get marriage certificates because they need them to prepare for the birth of their children," Fan Jie, a worker at the office, said on Tuesday.
After 77 days apart, Yi Xingyu and Zhang Qing met at the office on Tuesday for the first time since the lockdown's end to get their marriage certificate. "We originally planned to get married on Feb 2, which is a lucky day, and even booked the wedding banquet for March 28," Yi said.
Both Yi and Zhang were off work on Tuesday so they decided to get the certificate without further delay. "I cannot wait for her to move in with me and start our family since the outbreak has been effectively contained. It will never be too late to have our wedding ceremony and honeymoon," Yi said.
Zhou Meiyi, 56, and his wife also received their marriage certificate on the same day. He came to the office straight after completing the nucleic acid test for the virus, which is essential for people in Wuhan to return to work.
"We didn't pick the date. It's just convenient for both of us. The epidemic has shown us that ordinary life is actually the most precious, and we are ready to carry on our normal life together, " Zhou said.