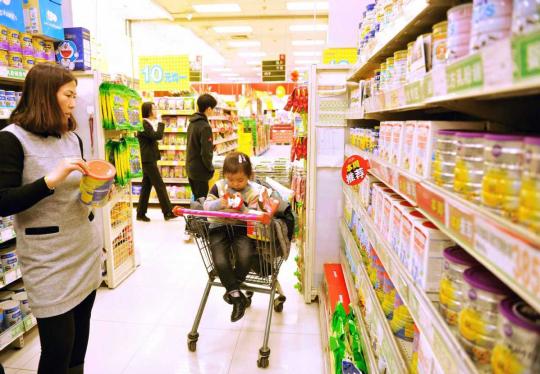 Consumers check out infant and toddler formulas at a supermarket in Qingdao, Shandong province. (Photo/China Daily)
A niche has developed for the relatively small category goat milk infant formula in China.
Goat milk formula has been popularized and is better recognized by consumers after a decade of growth and more dairy makers are making investments in the product, given the increasingly fierce competition in the milk formula market.
Chinese dairy giant Inner Mongolia Yili Industrial Group launched its first goat milk infant formula product in the high-end segment in December. The product uses goat milk which is originated from the Netherlands. It is meant for babies till the age of three.
Yili said goat milk infant formula will be easier to digest and absorbed by babies and will help to enhance the resistance of infants to diseases. The launch of the new product will help the company to enrich its high-end product portfolio. Yili is the largest dairy maker in Asia.
"The market of goat milk infant formula has been growing rapidly in China. With scarce output and richer nutrition, the category is seeing good growth prospects," said Zhao Xin, vice-president of the Yili Group.
"With increasingly specialized nutritional demand from young mothers, the goat milk formula we have launched is expected to help revive domestically-made infant formula products," he said.
The goat milk formula market in China is forecast to hit 10 billion yuan ($1.4 billion) this year. The figure was 5 billion yuan in 2015 and 300 million yuan in 2008, said an industry report issued by the China Academy of Social Sciences.
Dutch dairy provider Kabrita, a sub-affiliate of Chinese dairy maker Ausnutria Dairy Corp, has taken a commanding 60 percent share in the imported goat milk formula market in China. The company said it plans to launch more diversified kinds of goat milk formula goods in the next few years.
A bottle of 800 grams of goat milk formula costs 274 yuan on Tmall, an e-commerce platform under Alibaba Group, higher than the similar size of traditional milk infant formula brands.
In the first half of 2019, sales of goat milk formula products under Ausnutria reached 1.32 billion yuan, surging 45.3 percent year-on-year. During the period, sales of milk powder jumped 20.7 percent year-on-year, according to the company.
"Compared with normal milk, the digestion rate of goat milk infant formula is closer to that of breast milk. Goat milk formula also contains more protein, fat, minerals and vitamins," said Wang Junbo, a professor at the School of Public Health of Peking University.
"With increasingly higher recognition of the nutritional values of goat milk by the public, goat milk has been more widely applied to dairy products and skincare products, and it is seeing ample growth potential in China," Wang said.
Some other domestic brands such as Guangdong Yashily Group and Synutra Dairy Group have become major industrial players in the goat milk formula market in China.
The new generation of young mothers have recorded higher and more personalized demand, so dairy makers have to conform to the trend and keep enriching their product portfolios to meet those requirements, industry experts said.
Song Liang, a dairy industry analyst, said the growth rate of goat milk formula has actually slowed down in recent years, with an increasing number of big companies promoting the category, and some small-and middle-sized companies will suffer a loss as a result.
"Yet, big brands can promote new products with their sales and marketing advantages, and the bonus from brand imaging still exists for major players," he said.