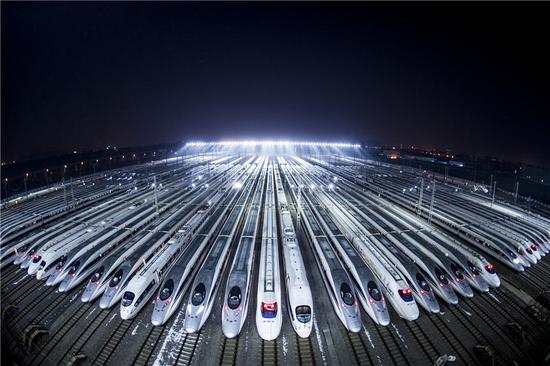 High-speed trains wait for maintenance in Wuhan. (Photo/Xinhua)
As delivery pressure for e-commerce products drastically increased during the "Double 11" (Nov 11) shopping craze, railway transportation sectors are not idly standing by.
Fuxing bullet trains, for example, will lend a hand in this year's express services, bjnews.com reported.
Other express railways or high-speed passenger railways also will do what they can to help.
Cold chain carriages that can ensure a constant low temperature within a 100-hour time span have also been developed and put into use in delivering high-end drugs or food.
When logistics staff loads carriages with parcels, passenger seats will be protected with covers so they will not become messy after holding packages.
The weight of each parcel should not exceed 25 kg while being loaded, and the total weight of parcels in each reserved carriage should not exceed 6.4 tons, the report said.
Eight hundred high-speed passenger trains, reserved carriages of 181 high-speed passenger trains, luggage units on 450 passenger trains and other trains will be used daily for express services, which could cover 61 cities and 69 high-speed rail stations.
Railway transportation fueling e-commerce delivery could not only raise delivery efficiency, but also reduce environmental pollution.
It is predicted 48,000 cubic meters of goods will be delivered through railway transport in this year's "Double Eleven" shopping festival, which could reduce exhaust gas emissions of 300 freight trucks, each capable of carrying 160 cubic meters of cargo.
Railway express during this year's "Double Eleven" saw a sharp increase than in previous years, with a delivery peak occurring from Nov 13 to 17, as predicted by the Beijing Branch of China Railway Express.
"Double Eleven", an annual shopping season initiated by Alibaba over a decade ago, has enabled online shopping platforms to thrive.
It took just 96 seconds for Alibaba Group to net 10 billion yuan ($1.43 billion) worth of gross merchandise volume at midnight of Nov 11.