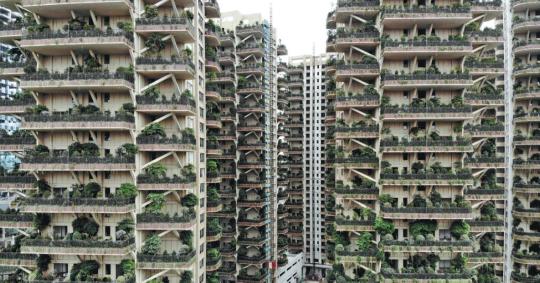 A "vertical forest" features in the design of a residential community in Chengdu, capital of Sichuan province. (Photo/China News Service)
Planting trees and shrubs will play a crucial role in buildings of the future
As urbanization spreads worldwide, many people are asking: What will the cities of the future look like?
Urban planners and architects have been grappling with this issue for decades. But one thing is becoming abundantly clear-these cities will be clean and green.
They will be living, breathing spaces-not only free of pollution but generating fresh air for residents.
Signs of this are already starting to emerge in several cities in China and also in Singapore, Sydney, Australia, and Milan, Italy.
Bharat Dahiya, one of the world's leading experts on sustainable urbanization, said the cities of the future will feature 20-or 30-story buildings that will be "green, use clean energy sources and be covered in trees and shrubs".
Dahiya is director of the Research Center for Integrated Sustainable Development at Thammasat University College of Interdisciplinary Studies in Bangkok, Thailand, and also distinguished professor at the Urban Youth Academy in Seoul, South Korea.
"Trees provide shade; trees cool areas such as streets, roads and open spaces that are exposed to the sun, and in turn lower average temperatures in cities and human settlements," he said. "Trees clean the air, reduce urban pollution and provide much-needed oxygen."
During the UN Climate Summit in New York in September, several international organizations, including China's Urban Forest Research Center, met to lay the foundations for a project that will have a profound impact on cities and how we live.
Although still in its early stages, the project will involve planting forests in 90 cities in countries across Africa and Asia, including China, which already has several urban forest projects either at the planning or planting stages.
For example, in Nanjing, capital of Jiangsu province, two residential high-rises designed by Italian architect Stefano Boeri are being built.
When completed, the buildings will house 1,100 trees from 23 local species and 2,500 cascading plants and shrubs, which according to the architects, will absorb 25 metric tons of carbon dioxide each year and produce about 60 kilograms of oxygen a day.
To put that in perspective, removing 25 tons of carbon dioxide would be equivalent to taking five cars off the road for a year. Chinese cities have some of the most polluted air in the world.
In addition to the Urban Forest Research Center and Boeri's company Stefano Boeri Architetti, other participants at the meeting in New York included: the UN Food and Agriculture Organisation; UN Habitat; the C40 Cities Climate Leadership Group (which represents 94 cities or 8.3 percent of the world's population); the United Kingdom's Royal Botanic Gardens Kew; the Arbor Day Foundation (a US nonprofit conservation and education organization); and the Italian Society of Silviculture and Forest Ecology.
"We are still at the very beginning of this program and will be working over the coming months on ways to make it concrete," said Simone Borelli, an FAO expert on urban forestry.
Borelli said several cities had already been contacted "either directly or through our partners" to see if they want to take part in the project, but "no selection has yet been made".
"The overall idea is to establish a multidonor global mechanism that would provide matching funds for national or local projects, such as those collected through environmental fees and/or public-private partnerships in which users of urban forests contribute to their establishment or preservation," he said.