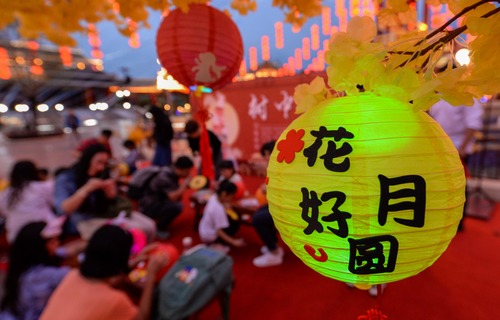 Visitors make lanterns to celebrate the Mid-Autumn Festival in Fantawild Theme Park of Cixian County in Handan City, north China's Hebei Province, Sept. 13, 2019. (Xinhua/Wang Xiao)
Special: Mid-Autumn Festival 2019
A total of 105 million Chinese tourists traveled around the country during this year's three-day Mid-Autumn Festival holiday which started Friday, the Ministry of Culture and Tourism said Sunday.
The figure represented a 7.6-percent increase compared with the holiday last year, the ministry said.
Domestic tourism revenue generated during the period totaled 47.28 billion yuan (around 6.7 billion U.S. dollars), up 8.7 percent year on year, according to ministry figures.
Many events that promote family values, patriotism and traditional Chinese culture were held across China during the holiday, the ministry noted.
Among them was the Shanghai Tourism Festival opening ceremony on Saturday evening, which featured 32 performance groups from 19 countries and regions and attracted some 300,000 spectators.
Night-time sightseeing is the highlight of the Mid-Autumn Festival, with Xi'an, Chongqing, Xiamen and Chengdu ranking among the most popular places for sightseeing at night, according to the ministry.
Light shows were staged at ancient towns including Zhouzhuang in east China's Jiangsu Province and Wuzhen in the neighboring Zhejiang Province to showcase the towns' classic elegance at night during the holiday, the ministry noted.
The Mid-Autumn Festival is typically marked by family reunions, enjoying sights of the full moon and eating mooncakes, among other traditions.