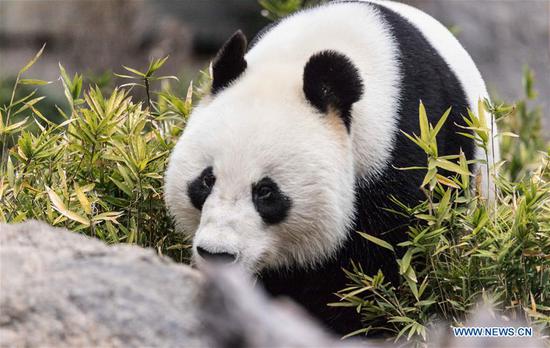 Giant panda Wang Wang is on its way to the pool during its birthday party in Adelaide Zoo, Adelaide, Australia, on Aug. 25, 2019. The tenth birthday overseas of the two pandas, Wang Wang and Fu Ni, was celebrated Sunday in Adelaide Zoo, the second oldest zoo in Australia, boasting a history of more than 130 years with more than 2,500 animals. (Xinhua/Liu Changchang)
In the chorus of "Happy Birthday to You" from visitors, the pandas at Adelaide Zoo of south Australia celebrated their tenth birthday overseas on Sunday.
"I wish them a happy birthday," said eight-year-old Madison Muscat. She was dressed in a gray sweater with a panda head on it and trousers with a panda pattern, wearing a panda-shaped watch and carrying a panda backpack, while her twin sister Imogen was in a panda-patterned dress and wearing a panda-ear hairpin.
The excited Madison said that panda was her favorite animal "because they are so cute."
Their mother, Vanessa Muscat, told Xinhua that her daughters, especially Madison, had fell in love with pandas since they were first brought to see the animal in Adelaide Zoo at the age of one.
"We have so many 'pandas' at home," said the mother. Talking about Madison, she said "her bedroom is full of pandas, and her dream is going to China one day and hold a baby panda."
Adelaide Zoo is the second oldest zoo in Australia, boasting a history of more than 130 years with more than 2,500 animals. Pandas Wang Wang (meaning Net Net) and Fu Ni (meaning Lucky Girl) arrived in November 2009 as the first pandas in the Southern Hemisphere.
Elaine Bensted, chief executive of Zoos SA, told Xinhua that the pandas had been quite popular.
"We have been quite honored to have the giant pandas here for 10 years," she said. "Since they arrived in 2009, we have about four million people coming to visit the zoo and see Fu Ni and Wang Wang. The population in Adelaide is 1.5 million."
Wang Wang was born on Aug. 31, 2005, while Fu Ni's birthday was Aug. 23, 2006.
Their birthdays were celebrated each year.
"We do differently every year so that the public could come and celebrate their birthdays," said Bensted. "We have a group of volunteers who help create things enjoyable for the pandas and enjoyable for the public to watch."
This year the theme is Winnie the Pooh. "By using different characters of Winnie the Pooh, they make items filled with panda's favorite things. They hide carrots, sawdust, all sorts of things that pandas like," she said. The pandas had to work to find the gifts and open up their treats, like opening Christmas presents.
The pandas' zoo keeper Connie Girardi told Xinhua that they have different personalities. While Fu Ni is intelligent, confident and headstrong, always knowing what she wants, Wang Wang is laid-back.
She said that they have two keepers each day to take care of the pair. When the pandas were enjoying their breakfast between 8 a.m. and 9 a.m., they cleaned their enclosure.
It was not an easy task, because the "residential areas" for a single panda were among the largest in the world.
Behaviors of the pandas were monitored by CCTV all the time, so whenever the pandas were hungry, they would be fed.
"They choose from 10 species of bamboo each day," Girardi said. "And their tastes change all the time." The zoo has a plantation of 30 acres growing bamboo for the pandas. They also receive donations.
In their leisure time, Wang Wang and Fu Ni would "do the painting" with brushes. While calling Wang Wang "an artist," Girardi said Fu Ni also liked playing tug-of-war with the keepers. "She wins all the time," she smiled.
According to the contract, Wang Wang and Fu Ni would stay in Adelaide for 10 years, and 2019 is the last year.
"We are in positive discussion with China about keeping them here for longer," said Bensted the Chief Executive.