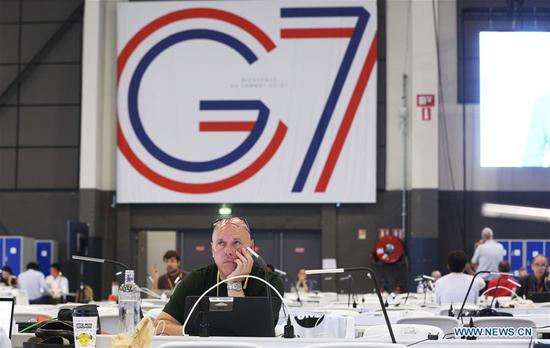 Journalists work at the G7 summit press center in Biarritz, France, Aug. 25, 2019. Leaders from the world's seven most industrialized countries started the divided group's 45th summit, clouded by a pile of tough issues with trade tensions high on agenda, on Saturday evening at the French seaside resort Biarritz. (Xinhua/Gao Jing)
As the Group of Seven (G7) summit entered into its second day, leaders of the world's wealthiest countries club went through a packed schedule Sunday to build consensus, but their divisions on such issues as trade and Iranian nuclear deal were hard to bridge.
On the trade issue, U.S. President Donald Trump and his "America First" policy received more pressure from his G7 colleagues, with British Prime Minister Boris Johnson, who was widely believed as Trump's closest ally among G7, saying publicly that Britain is "in favor of trade peace on the whole" instead of a trade war.
Johnson made the remarks during his work breakfast with Trump, who was criticized for ratcheting up trade conflict with China.
"Just to register the faint, sheep-like note of our view on the trade war, we're in favor of trade peace on the whole, and dialing it down if we can," Johnson told Trump in front of the press.
The British prime minister said "the UK has profited massively in the last 200 years from free trade, and that's what we want to see. And so we're keen to see -- we don't like tariffs on the whole."
This was the second time that Johnson expressed his concern over Trump's trade policy in the week. En route to the G7 summit, he told reporters that he was "very, very concerned" about the trade conflict between the U.S. and China.
"This is not the way to proceed. Apart from anything else, those who support the tariffs are at risk of incurring the blame for the downturn in the global economy, irrespective of whether that is true... I want to see an opening up of global trade, I want to see a dialing down of tensions, and I want to see tariffs come off," he said.
IRANIAN NUCLEAR ISSUE
Meanwhile on the Iranian nuclear issue, after several bilateral and trilateral meetings during the day, leaders failed to agree on any joint action.
French President Emmanuel Macron and Trump said Sunday that G7 members will each act on its own over the thorny issue.
"There is no formal mandate at G7. We will continue to act, each in his own role," Macron told reporters at the summit. "G7 is an informal club. We do not give formal mandate to this one or that one."
Earlier in the day, Macron told French television LCI, "we agreed on what we wanted to say jointly on Iran ... Everyone wants to avoid a conflict, U.S. President Donald Trump was extremely clear on that point."
French media reported that Macron has obtained a mandate to deliver a message to Iran on behalf of the seven countries, following the leaders' dinner on Saturday.
"No, I haven't discussed this," said Trump, however, on Sunday morning when asked about "joint action" over Iran at a joint press conference with Japanese Prime Minister Shinzo Abe.
When asked whether he supports Macron's outreach concerning Iran, Trump said, "Sure. But I also support Abe's outreach...We'll do our own outreach. You can't stop people from talking. If they want to talk, they can talk."
In another development, Iranian Foreign Minister Mohammad Javad Zarif arrived Sunday afternoon in Biarritz. But the Iranian authority later ruled out the possibility of any scheduled meeting or negotiation with the American delegation during Zarif's stay.
The visit was made at the invitation of French Foreign Minister Jean-Yves Le Drian, in a bid to continue discussions on recent initiatives between the presidents of Iran and France, said Iranian Foreign Ministry spokesman Abbas Mousavi.
Iran's nuclear issue is one of the main topics at the summit of the seven leading industrialized countries. Together with Britain and Germany, the host country France is working to rescue the Joint Comprehensive Plan of Action (JCPOA), also known as the Iranian nuclear deal, from which the United States has withdrawn, raising the tension of the Gulf region.