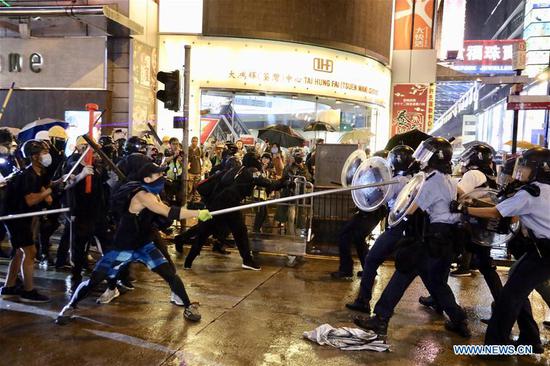 Radical protesters attack police officers in Tsuen Wan, in the western New Territories of south China's Hong Kong, Aug. 25, 2019. Radical protesters block various roads, hurl bricks and stones at police officers in the protest. (Xinhua/Lui Siu Wai)
The Hong Kong Special Administrative Region (HKSAR) government has strongly condemned the escalation of violence by radical protesters in Kwai Chung and Tsuen Wan on Sunday.
Some protesters blocked the road, confronted the police, attacked police officers with bricks and iron rods, and repeatedly hurled petrol bombs at police cars and police officers, seriously undermining social peace, a spokesperson of the HKSAR government said in a statement issued Monday.
The escalation of violence by radical protesters is not only outrageous but puts Hong Kong on the brink of extreme danger, the spokesperson said.
The HKSAR government calls on the public to fight against violence, safeguard the rule of law, and restore social order as soon as possible.