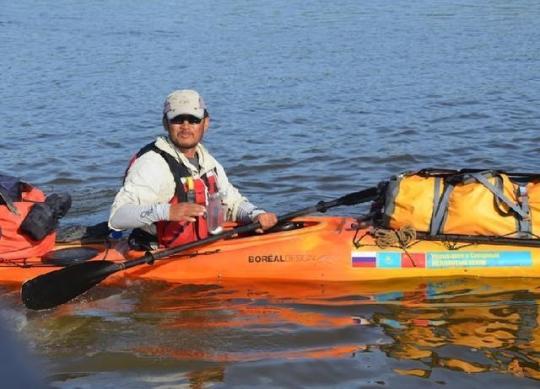 Hou Zhili drifts on the Irtysh River that originates in Northwest China's Xinjiang Uygur autonomous region and run into the Arctic Ocean. (Photo/Xinhua)
China's drifting amateur Hou Zhili, who succeeded in covering the entire length of Irtysh River, arrived Monday in Novosibirsk, Russia, preparing for the challenge of drifting to the Arctic Ocean.
The Irtysh River is the only river running into the Arctic Ocean in China. With the total length of 4,248 kilometers, originating from the southern part of the Altai mountains in Xinjiang, China, the Irtysh River runs through Kazakhstan and Russia, and it meets the Ob River in Russian territory and eventually empties into the Arctic River.
After finishing the challenges of drifting the whole Irtysh River in September, 2018, Hou said that he left his boat in Russia because he would continue drifting to fulfil his ultimate dream of drifting to the Arctic Ocean.
Hou plans to fly to Hantemasik, Russia, where he starts his 40-day drifting journey to the Arctic Ocean.
Hou, a graphic designer from Xinjiang, was born in Fuyun country, a small town beside the source of Irtysh River. Since his childhood, he has aspired to complete a drifting across the whole river.
He spent four years finishing a three-stage drifting journey, independently ending his drifting in three waters of the river spanning China, Kazakhstan and Russia.