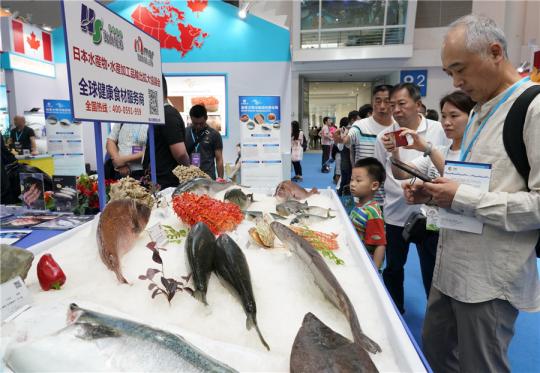 Visitors look at aquatic products at the stand of a Japanese company during a seafood expo in Fuzhou, capital of Fujian Province. (Photo/Xinhua)
Trade volume between China and Japan is expected to see double-digit growth this year, and their business ties will continue to expand in the service and financial areas, said a leading economist.
The pushing power behind this prediction is that China and Japan, two major manufacturing powerhouses, are keen to enrich their cooperative content and support multilateralism, as well as oppose protectionism and preserve the stability of the existing global economic order, said Wei Jianguo, vice-chairman of the China Center for International Economic Exchanges.
In addition to importing precision instruments, new materials, electronic equipment and parts from Japan, China's new round of opening-up will create more opportunities for Japanese companies in the healthcare, elderly care, banking and insurance sectors to expand their presence in the country, he said.
Wei made the remarks before the upcoming G20 summit in Osaka, Japan, where global leaders from economies representing more than 80 percent of the world's GDP will gather later this week to discuss issues including the global economy, trade and investment, innovation, the environment, energy and the job market.