4 out of 11 deaths blamed on crowding during climbs to scale summit of Qomolangma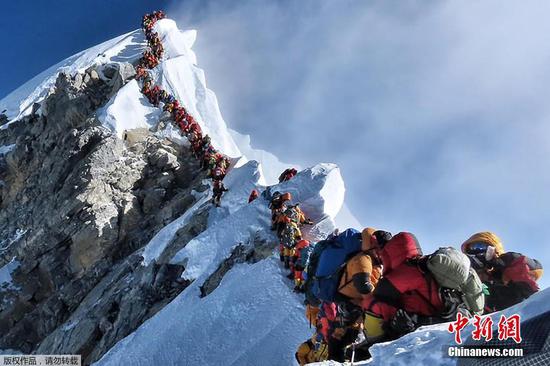 A crowd of mountaineers waits their turn to stand on the summit of Qomolangma in a photo taken on May 22. (Photo/Agencies)
Experienced climbers and guides called for alpinists without adequate training to think twice before taking on the world's highest peak, especially during a crowded climbing season.
As of Tuesday, the death toll of climbers attempting to reach the summit of Qomolangma — known as Mount Everest in the West — reached 11 during this climbing season. Nine died on the Nepali side and two on the north face of the mountain in China's Tibet autonomous region, according to media reports.
China's Qomolangma climbing season runs from April 10 to this weekend, weather permitting.
At least four deaths have been blamed on crowding during the climbs, Agence France-Presse reported.
People should be well prepared to handle Qomolangma's traffic jams which are common phenomena along climbing paths, said alpinists who had reached the summit.
"Although the news about the jam on Qomolangma this year has gone viral, people should understand that it happens every year during the brief climbing window. Knowing what to do when climbers jam the narrow paths should be included in their training well in advance," said Ma Liyamu, who reached the top of Qomolangma, the world's tallest mountain at 8,848 meters, on May 22 and was also held up by the crowds on her descent.
She is the leader of a mountaineering team of three Chinese women who scaled Qomolangma. They launched their expedition from Nepal, which issued 381 climbing permits for the season that concludes this week. Nepal's permits this season cost $11,000 each.
Due to encouraging weather forecasts, many teams decided to scale the summit from the Nepali side on May 22 and 23. As a result, crowded conditions formed about 100 to 150 meters from the peak, Ma said in Kathmandu, Nepal's capital. "I was forced to wait in a line for about 20 minutes on my way down. Such circumstances can be fatal to climbers if they panic and consume more oxygen than planned. Also, they can easily get frostbite if they don't keep moving."
This year, about 90 percent of the climbers at Qomolangma are first-timers. Lack of professional training and experience as well as undetected health issues should be mainly blamed for the casualties on the mountain rather than the traffic jam, Ma added. "Some expedition companies failed to prepare the climbers for crowded conditions which is really irresponsible."
During the team's 40-day intensive training in Nepal, their Sherpa guides had taught them how to maintain healthy blood circulation and remain safe in crowded conditions, she said.
This spring, 144 foreign and 12 Chinese climbers have also attempted to conquer Qomolangma from Tibet, according to the Tibet Mountaineering Association. "Despite having a smaller number of climbers, traffic jams also happened on the Tibetan side," Ma said.
"Crowds are usual on some mountains. It's not a new phenomenon. Climbers often lose their lives when they don't follow the instructions of Sherpa guides and make decisions on their own," Kami Rita, an experienced Sherpa who has reached Qomolangma's summit 24 times, told Xinhua News Agency.
Sherpas are aware of every twist and turn and which paths to follow up mountains, so he urged the Nepali government to discourage mountaineers from climbing mountains without guides in order to prevent casualties.
Ameesha Chauhan, who is in a hospital in Kathmandu recovering from frostbite she contracted during crowded conditions, told AFP that climbers without basic skills should be barred to prevent a recurrence of this year's deadly season.
The 29-year-old Indian had to wait 20 minutes to come down from the peak. She saw some climbers without basic skills fully relying on their Sherpa guides. Officials should change the qualification criteria. Poorly trained climbers put their own lives at risk and also the lives of the Sherpas, Chauhan said.
Some climbers died due to their own negligence. They insisted on reaching the top even when their oxygen was running out, she added.