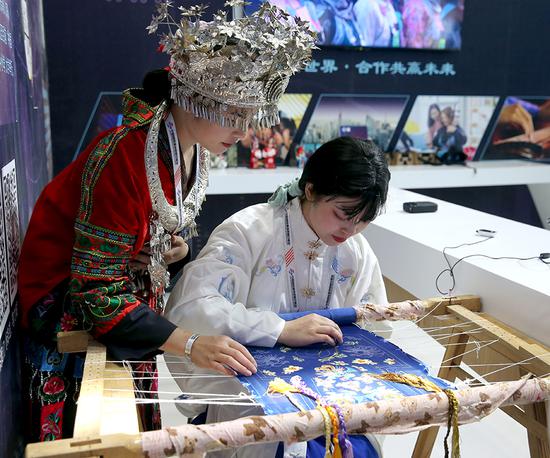 Embroidery art of ethnic Miao people is demonstrated at the 2019 China International Fair for Trade in Services, which opened in Beijing on Tuesday. (Photo/China Daily)
Both Served by China and Made in China will provide more impetus for the high quality development of the Chinese economy, as the country is keen to push its service trade competitiveness from a medium level to the next level, officials said on Tuesday.
China will continue to maintain a fast growth pace in service trade over the long term, said Zhong Shan, China's minister of commerce.
The rapid growth in knowledge-intensive service trade has become the key driver for the development of China's service trade, Zhong said at the opening ceremony of the 2019 China International Fair for Trade in Services, which opened in Beijing on Tuesday.
China's intellectual property-intensive services registered high growth in exports during the first quarter of 2019, data from the ministry show.
This reflects improved competitiveness in the service industry and high quality of trade in services, said Jin Xu, president of the Beijing-based China Association of International Trade.
Chinese companies obtained service outsourcing contracts worth 289.22 billion yuan ($42.03 billion) between January and March, up 4.4 percent year-on-year, and foreign trade in cultural products reached $19.69 billion, up 7 percent.
Xian Guoyi, director-general of the department of trade in service and commercial services at the Ministry of Commerce, said: "For the next step, the government will pay a great deal of attention to the development of digital technologies to enhance its service capacity during the new round of opening up in the services trade."
China has been the world's second-largest country in service trade for five consecutive years, with the total value reaching 5.24 trillion yuan in 2018, up 11.5 percent year-on-year, data from the ministry show.
China's service industry accounted for 52.2 percent of the total GDP in 2018, up 11.5 percentage points compared with the secondary industry, according to the National Bureau of Statistics.
Zhang Qianshan, deputy secretary-general of Wuxi city government of Jiangsu province, said in addition to developing high-tech and traditional manufacturing business, the city-as one of China's 13 national platforms for cultural product exports-will deploy more resources to improve service trade, especially in areas such as film and animation, digital products, information, industrial design and tourism.
Markets participating in the Belt and Road Initiative will be the focus of markets to boost cultural and people-to-people exchanges in the long term, he said.
The 2019 China International Fair for Trade in Services has attracted 98 delegations from the BRI partner countries and regions. A series of themed activities will be held during the fair, including forums on service trade cooperation.