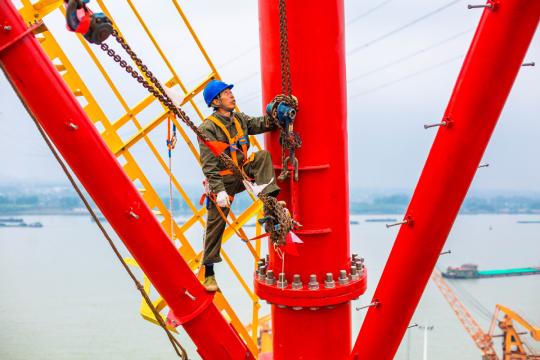 An electrician checks power transmission facilities in Zhenjiang, Jiangsu province. (Photo by Tang Dehong/For China Daily)
Investments to boost long-term growth momentum for rest of year
Infrastructure investment may further speed up in the rest of the year, which will help to stabilize the Chinese economy and inject long-term growth momentum, economists said.
"Infrastructure investment may see steady, moderate growth this year, with the full-year growth rate reaching 8 percent year-on-year for the optimistic case," said Yang Weiyong, an associate professor of economics at the University of International Business and Economics in Beijing.
During the first quarter, infrastructure investment registered 4.4 percent growth year-on-year, faster than the 3.8 percent for the whole year in 2018, data from the National Bureau of Statistics showed. Meanwhile, total fixed-asset investment grew 6.3 percent during the January-March period.
Infrastructure investment may further gather speed from the second quarter, Yang said, as projects which commenced in the first quarter will likely lead to a steady increase in investment. Moreover, more projects may kick off this year as the government consolidates growth stabilization efforts.
"Over the second quarter, the year-on-year growth rate of infrastructure investment may approach that of total fixed-asset investment, while in the third and fourth quarter infrastructure investment may outpace total fixed-asset investment," Yang said.
But it is not likely to see a significant growth in infrastructure investment, as policymakers have promised to refrain from a deluge of stimulus, Yang added.
Infrastructure investment has speeded up this year as policies stabilizing the economy began to take effect. In the first quarter, nearly 20 province-level regions commenced more than 10,000 major projects with a total investment of nearly 5 trillion yuan ($744.2 billion), according to data compiled by Economic Information Daily. Considering those not taken into account by the newspaper, the real figure could be larger.
The government has announced that the nation will expand effective investment this year, with full-year investment in railway construction to reach 800 billion yuan, and in road construction and waterway projects to reach 1.8 trillion yuan. It also promised to strengthen the construction of next-generation information infrastructure.
"There is no doubt the acceleration of infrastructure investment can play an important role in stabilizing the economy in the short term, as it could notably boost demand and employment given the rather large investment scale," said Feng Yongsheng, a researcher at the Chinese Academy of Social Sciences.
"However, we should focus more on its long-term effects of driving economic growth by improving the weak links of the economy," Feng said.
On the one hand, improvements in infrastructure connectivity between regions can smooth the movement of production factors, thus helping different regions develop in a coordinated way, according to Feng.
"Take the Xinjiang Uygur autonomous region as an example. By strengthening networks of transportation and energy between Xinjiang and the eastern region, Xinjiang's resources in energy, such as coal and electricity, can be better leveraged, boosting its own development and that of eastern provinces," Feng said.
On the other hand, infrastructure investment could also pave the way for industrial restructuring and upgrading, Feng said. "For instance, 5G infrastructure is the foundation of artificial intelligence, the internet of things and other key technology innovations to upgrade the modes of production and life."
Infrastructure investment in information transmission surged by 35.5 percent year-on-year during the first quarter, up by 32.4 percentage points from a year earlier, according to the NBS.
Feng cautioned for the need to avoid pushing ahead with 5G infrastructure investment too rapidly, as the applications and profit models of 5G are still being explored.
"Reckless large-scale infrastructure investment should also be avoided, which could lead to low investment efficiency and risks in the fiscal sustainability of local governments," said Yang.
"The current policy stance of infrastructure investment is on the right track of focusing on addressing weak links." But it is still necessary to step up efforts to prevent local governments from offsetting short-term downside pressure by investing in projects with low long-term returns, Yang said.
To enhance investment efficiency and revitalize the private economy, Yang suggested strengthening private companies' role in infrastructure investment, especially by giving them more say in selecting projects under the public-private partnership scheme.