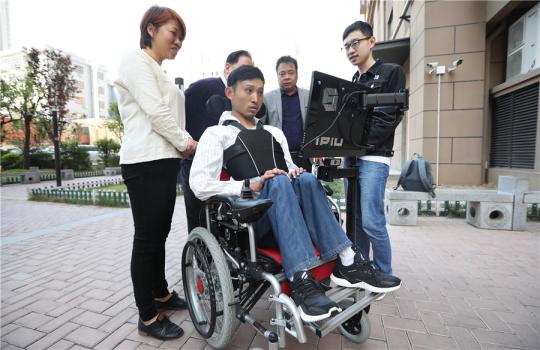 Zhang Wei operates the wheelchair at a residential community in Xi'an, Shaanxi province, April 17, 2019. (Photo by Chen Feibo/For chinadaily.com.cn)
A research team from northwestern China has developed an intelligent wheelchair that allows patients with diseases that restrict movement like amyotrophic lateral sclerosis to move, turn around and control devices in a smart home by reading the movement of the user's eyes.
The device, developed by a team from Xidian University in Xi'an, Shaanxi province, incorporates technologies such as artificial intelligence and the internet of things-which involves connecting devices through a network-and includes a tablet and camera in front of the user's face.
By looking at the screen, patients will be able to command the wheelchair to move forward or backward, turn around and avoid obstacles.
The tablet also provides smart home functions such as moving curtains, switching lights and air conditioners on and off, locking doors, playing movies and music and adjusting the volume, giving patients with immobilizing diseases much more independence.
It was designed for the type of impairments caused by ALS, a progressive condition also called Lou Gehrig's disease that attacks nerve cells that control muscles, making patients unable to move, talk or even breathe.
The renowned physicist Stephen Hawking was diagnosed with ALS in 1963 and began to rely on a wheelchair more and more for the rest of his life. As his illness progressed, Intel Corp made him a custom wheelchair that cost more than 6 million yuan ($900,000), said Sun Long, a doctoral student who took part in the new wheelchair's development.
"Hawking's wheelchair is extremely costly and cannot be mass-produced. Not every ALS patient has access to such assistance, so we wanted to produce an affordable substitute," he said.
The device uses sensors to identify eye movements and process the information through algorithms before initiating functions corresponding to the user's wishes.
Sun said it is somewhat like using a smartphone. "When people touch the screen to open an app on a smartphone, the system analyzes the duration or scope of the touch before launching the app. This wheelchair is similar, only it operates through eye movements," he said.
In March, the team donated their first wheelchair to Zhang Wei, an ALS patient who earned nationwide fame for climbing on his hands to the peak of Shaanxi province's Huashan Mountain.
Within 20 minutes, Zhang was able to use it to move, turn and go uphill and downhill.
"It was easy and convenient. Sitting on it, I feel like I am taking a test for a driver's license," he said.
With different eye movements, he can put the wheelchair in movement mode and the system will analyze the area and map out a safe path, the designers said. Zhang then is free to choose the path and direct the wheelchair to turn by looking left or right.
"It looks just like the Hawking's wheelchair," Zhang said. "I didn't expect that I would have access to such an advanced product," he said.
Many companies have approached the research team about putting it on the market, but the researchers say that right now, they want to focus on improving related technologies and functions. Sun added that they will consider mass production when the technology has matured enough.
Sun Long and his team took over the project in July 2018 from an earlier group at the university.
The wheelchair had already taken shape but had too many errors.
"The change in eye position is subtle but the device was very immature at that early stage. The developer himself used it just fine when demonstrating it, but when other people sat on it, it would stop working," Sun said.
He said after continuous algorithm optimization, the device proved safe for use.
Sun said their next goal is to reduce reliance on patients' eyes and make the wheelchair more automatic.
"Just as people become tired using their phones for a long time, ALS patients controlling the machine can get tired. We are thinking about how to use, for example, ultrasound or infrared to scan areas like a home so as to plan a path so the wheelchair can drive automatically," said the doctoral student.